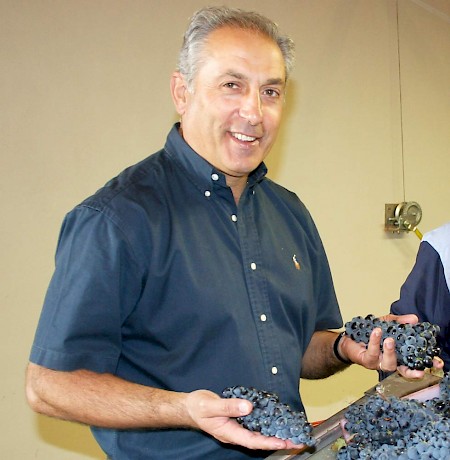 Photo: Bodegas Luis Cañas
Award-winning Basque winery Bodegas Luis Cañas is a family business, set up by Luis Cañas in 1970. His son, Juan Luis Cañas, took over the company in 1989 and in 1994 he opened a new winery, equipped with cutting-edge processing systems. In an exclusive interview, he spoke to The Report Company about the winery's success and explained what makes his wines special.
The Report Company: What would you highlight as your proudest accomplishment in the 25 years you have been running the winery?

Juan Luis Cañas: Having developed a good human relationship with the people who work here with me. They are not just working for the money, but because they like what they do, and that makes all the difference. I spend more time with these people than with my own wife and children. Of course my family is the number one priority in my life, but I also love the people who work with me here. I also derive great satisfaction from our position in the market right now – not our cash flow but our prestige.

TRC: What image does your winery have today?

JLC: Our salespeople are finding it really easy to deal with exporters and distributors these days, while in the past it was a real uphill battle. Acquaintances portray us as a reference in the sector, and even our competition speaks well of us. And the Consejo Regulador [the supervisory body for Rioja wines] takes our opinions into account.

TRC: What is the Luis Cañas brand image?

JLC: We are a reliable company. Our wines are enormously reliable. When you buy one of our wines, you know it's not going to fail you. All our wines are expected to be perfect from the very beginning. They give you more back than what you pay for them. That is the idea behind our product.

TRC: Riojas are the best-known Spanish wines abroad. What is it about your particular wines that gives them the edge?

JLC: Many factors go into our product, but what really distinguishes us is our faith in the vineyard rather than in the winery. That is to say, we believe more in the grape itself than in the process that comes after it. We believe more in viticulture than in oenology even though it's true that our oenologists are great professionals. Given a choice, I would take a great grape and an average oenologist before an average grape and a great oenologist. This is why we have a lot of personnel out in the field, including an agronomist and technical engineers.
"

All our wines are expected to be perfect from the very beginning. They give you more back than what you pay for them.

"
Tweet This
TRC: Do you have a special method for treating the grapes?

JLC: We don't use herbicides or synthetic fertilisers, just organic ones. We use pheromones to keep away the grapevine moth. We try to treat the grapevine as gently as possible; the grapevine is a living being that suffers from treatments and diseases just like the human body. We like to think of them as sentient beings and try to make sure they reach the winery in perfect health. After that, we use the best equipment, the best barrels and the best working systems. We always put ourselves in the place of the wine to see whether any given treatment is too harsh. We really feel the wine.

TRC: What about the wine's personality in terms of smell and flavour?

JLC: All our wines need to retain their fruitiness and the touch of minerals that define the earth in this particular corner of the world, which is different from the land 50 km further down. This gives our wines a very specific personality. Our wines are all about fruit and minerals.

TRC: What processes do the grapes go through once in the winery?

JLC: An oenologist is a bit like a chef, who cannot explain everything he does to bring that touch of magic to the dish. Typically, one of the oenologist's jobs is to conceal the negative aspects of the grape and highlight the positive ones. But in our case, there is nothing for our oenologists to conceal. This year we are going to have four double cluster and grape selection tables, and all our wines will go through a double selection process where people inspect the leaves, blemishes and so on. Then a machine classifies the grapes by weight. On a bad year like last year, we eliminated five to six percent of harvested grapes. Even the tiniest flaw means that the grape gets discarded, so our wines are very close to perfection.

TRC: What are your star products?

JLC: My mother Angeles died 17 years ago. She used to be a great help to my father with the business. As a tribute to her, I took the old vines that had belonged to her family, vines over 60 years old, and produced a Tempranillo that we called Amaren. Ama means mother in Basque, and Amaren means of the mother. The first harvest dates from 1995. In 2009, we decided to take those vines and create a separate winery, Bodegas Amaren, where we now also produce a limited edition of a wine called Angeles de Amaren, which includes a bit of Graciano grape besides the Tempranillo variety, as well as a 100 percent Graciano varietal and a fermented white wine. Everything that comes out of our Amaren winery is elite, really top quality wine.
"

Given a choice, I would take a great grape and an average oenologist before an average grape and a great oenologist.

"
Tweet This
TRC: What do you produce in the main winery, Luis Cañas?

JLC: At Luis Cañas we produce everything from whites to Crianza, Reserva, Gran Reserva and Hiru Tres Racimos. Hiru means three in Basque, and it represents the search for perfection in grapes taken from old vines that are 60, 70, 80 years old and even older. If a vine like that is on a hillside, the wind and the storms blow earth and nutrients down their way, while those at the top suffer more, especially at times of drought. But the roots go down deep, as much as two metres or more. Sometimes, you pull out a small vine and find that the roots were five metres long and all twisted because they had woven their way around the underground rocks to find the minerals they needed. This adds nuance to the wine, and that is what we are looking for. We look for vines with as few as one, two or three grape clusters, no more. In a field with 3,000 vines, there may be just 43 with just three clusters. This creates a wine for connoisseurs.

TRC: What is your best-selling wine?

JLC: Our Crianza red. Neal Martin, a reviewer for the prestigious American wine critic and writer Robert Parker, reported in his blog that the best wine in terms of price/quality was Luis Cañas Crianza 2009. That sent the media running over. Everyone knows about it now. Then we have our Reserva, made from 40-year-old vines and 5 percent Graciano grapes, Gran Reserva made from 50-year-old vines, and Reserva Familia, which contains 15 percent Cabernet Sauvignon grapes and is very well appreciated by the market. In Spain, this wine might sell for around €24.

TRC: How many countries are you exporting to, and which countries have the biggest growth potential for you?

JLC: We current export to around 40 countries, and we see the most growth in Germany and in Britain.
"

What we want is for someone to slap us in the back and exclaim: "Hey, that was a truly great wine!"

"
Tweet This
TRC: British chef Gordon Ramsay included a Luis Cañas Rioja on his wine list at The Narrow; what is the potential for partnerships with the hospitality business?

JLC: I actually didn't know this, but it's an honour for us to have been chosen by such a prestigious chef and to be present in an establishment at the level of The Narrow. It's welcome news, and I hope that the guests enjoy our wine and that our wine is a fine accompaniment to the magnificent cuisine that has made Gordon Ramsay so prestigious. Speaking of chefs, in Tickets, a tapas bar opened by Ferran Adria, the Catalan chef of El Bulli fame, the only Rioja wine they have there is ours, and they also offer our white Amaren. They have also set up a little drinks bar called Bodega 1900, which includes wines from our third winery, Dominio de Cair. We are also partnering with people at the Casino de Madrid restaurant.

When you start out, nobody comes to see you. We started out slowly, without any major ambitions. Money is not the main goal for us, we just want enough money to cover our costs, and we have never made a profit. We like to reinvest the money in the company. But slowly you and your team start meeting people, and word of mouth sets the wheels in motion, people start to know your work, and soon they want to work with you.

TRC: How much wine do you sell on an average year?

JLC: Around two million bottles.

TRC: You were named 'Best Basque Businessman' in 2007. What do accolades like this mean to you, and how would you define your management style?

JLC: As a businessman I do everything: field work, accounting, sales, winery work. I am also a gardener. I even sweep the floors sometimes. But I think that this award did not go out to me specifically, but to the team as a whole. A war is not won by the general, but by the soldiers who fight on the field. It is important to find people willing to fight with you and support you when you are going through a moment of weakness. You need hope and motivation.

TRC: Where do you see this company in the next four to five years?
JLC: My goal is not to sell more, but to work even better so that clients will be even happier. We have a project for a new wine made from very old vines that we have bought recently. We think they are over 100 years old. This will come out around 2019 or 2020. This work will be carried out manually, without any machines, and no chemical products will be used either. We will produce 4,000 bottles or maybe even fewer. That is the kind of project that motivates me right now. We don't have a business partner pressuring us into obtaining greater cash flow. We're not ambitious that way. What we want is for someone to slap us in the back and exclaim: "Hey, that was a truly great wine!"