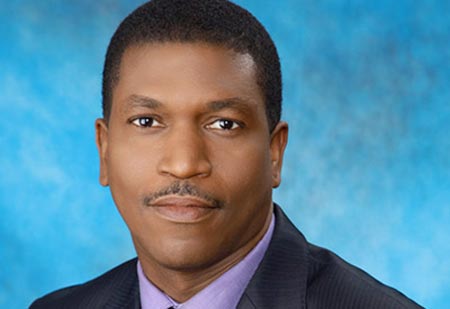 PricewaterhouseCoopers has operated in Trinidad and Tobago for over 80 years and is the largest professional services firm in the country. Brian Hackett spoke to The Report Company about the firm's involvement in the country's development, and its plans to consolidate across the Caribbean.
The Report Company: What does Trinidad and Tobago represent for PWC?

Brian Hackett: We in PwC are now coming together as a region, so PWC Caribbean stretches from Trinidad in the south to Bermuda in the north. Within that region, Trinidad is seen as one of the growth pillars. In particular, we see that the modernisation of the government in terms of the operations, practices and policies are going to provide large consulting opportunities for us. We also see the development of the PPP modality of doing infrastructure projects which we have been heavily involved in. We actually did the foundational work for the PPP modality in Trinidad for the ministry of finance, a project we've just finished, so we see great growth opportunities there. From a PWC Caribbean perspective, Trinidad is viewed as an important part of the network and particularly one of the areas that will be able to drive the growth of the network within the Caribbean.

TRC: How is Trinidad and Tobago different from other jurisdictions in the region?

BH: Trinidad and Tobago is different on a lot of levels. Culturally we are different in that we have a large Indian population, which is numerically the largest, a large African population, people from the Middle East, China and Portugal, so it really is a melting pot that is somewhat different from the other islands in the rest of the Caribbean.

Because of our proximity to Venezuela and their oil and gas fields we have also had a long history of oil and gas industrialisation. We've gone downstream as well, into the chemical sector, and we will go further downstream. On the negative side, we are not blessed with the beaches that some of the other islands have. Our hospitality product is not as developed and it is different. It is more business-oriented.

TRC: How would you appraise the work you do in Trinidad and Tobago?

BH: The amount of work we do for government organisations and state-run companies has increased a lot over the 20 years I've been here. The other sectors that are big as well would be the oil and gas sector, largely from an assurance and audit perspective. The banking and insurance sector, both from a consulting as well as an audit perspective, also features. Manufacturing is not as prevalent in our portfolio of clients but then obviously there's the distribution sector which we're heavily into. If I had to say which was the most dominant sector I would have to say the government sector right now. But our portfolio is fairly balanced.
"

We see that the modernisation of the government in terms of the operations, practices and policies are going to provide large consulting opportunities.

"
Tweet This
TRC: What has happened since your recommendations to the government last year? Have your recommendations been implemented?

BH: The previous finance minister, Minister Dookeran, planned to divest certain state companies. The first of those companies to be divested was First Citizens Bank so we handled that IPO from an advisory perspective. It's the largest initial public offering ever conducted in Trinidad and it was a huge success. We also understand that other entities are on the cards for similar activities, so that would be a direct example of a recommendation that was made by us and that has been implemented.

TRC: Which are the major projects in which PwC is involved at the moment?

BH: One large infrastructure project that may end up as a PPP-type structure would be the expansion of the port of Point Lisas. We've got approval from the board of Plipdeco (the Point Lisas Industrial Port Development Company) to move ahead with that project. Trinidad is well placed as a transhipment point connecting Europe with South America so that port expansion is premised upon that. Obviously feasibility testing has to be done to establish that it can go forward but that would be one project that we are directly involved in. If you develop your ports to be able to take Panamax vessels, it can have a direct effect on the economy as there is a cost involved if you can't deal with vessels of a larger size.

TRC: What is PwC's involvement in the failed gas to liquids plant project?

BH: We were appointed receiver of the assets, and our intention is to bring the parties to the table to complete the facility because it's important from a national perspective to do so. Our hope is that a solution will be found and I believe it will be brought into use. I imagine that this time next year the new owners will be commissioning the plant. That is my firm belief.
"

The regulatory failings during the economic crisis have changed the nature of the auditing business.

"
Tweet This
TRC: You are currently downsizing across the Caribbean; what has been the thinking behind the decision?

BH: We recently went through a process where a few jobs were made redundant. When you bring together an organisation that is as dominant as we are in all of the territories in which we operate, you have to find a new way of working and clearly there's going to be some downside to that. All redundancies are regrettable but they were very few. Now, as we reach the end of our overall integration process it is not our expectation that we will have large numbers falling into that bracket because we're doing this for growth, we're doing this so that we can match the profile of our regional clients. We would not go through this process, which is taking a lot of time and effort, if we did not firmly believe that it would fuel significant growth. When you have that critical mass you can invest more deeply in your talent, so we invest in valuation specialists here and actuaries in Bermuda and we'll be able to do that so much better when we have one page that we are all reading off of.

TRC: How do you leverage the global brand of PwC?

BH: As a case in point, we had one of our port experts from Belgium jump on a plane to join a meeting here. He was in the air for longer than the meeting took, but that is what we tell our clients what we can do and they expect that.

TRC: Is it hard to find the appropriate human resources in a small nation like Trinidad and Tobago?

BH: For every job that I need to fill in this country I just need to place an ad and I will get at least 50 qualified people that can do the job. This is testimony to the efforts of various administrations in terms of how much has been done on the education front. Some may say that our education is not as deep as it used to be but it is certainly much broader than it was. My team in advisory is 47 strong. There is not a member that if they leave we could not replace, at least from a qualification standpoint.

TRC: What are your main priorities and what is your vision for the future?

BH: I think we're going through a period where not just PwC but all of the Big Four have to find themselves and find a new relevance. The regulatory failings during the economic crisis have changed the nature of the auditing business. PwC in my view needs to more clearly define its space in terms of the advisory market, looking at what type of advisors we want to be and where our skill sets lie, while at the same time focussing on where we've come from. We are largely assurance professionals which sort of suggests where a lot of our advisory work is going to be, but in addition to that we need to define what space we are going to occupy in consulting and in financial advisory, so that for me is a longer term vision. I have approximately 11 years left here, because we have a very young retirement age, so that for me is key to do while I'm still here as well as to develop the manpower that we have resident with us within the advisory unit where we our talent pool at the higher level is much broader and much deeper than currently.