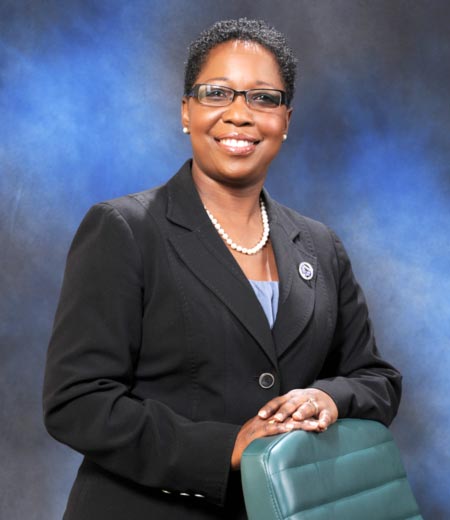 While East Port of Spain is the cultural capital of Trinidad and Tobago, the area has attracted a reputation for crime and violence. Deborah Thomas, managing director of the East Port of Spain Development Company, explained to The Report Company how she plans to transform and regenerate this diverse, complex metropolitan district.
The Report Company: What would be your overview of the situation at the moment in East Port of Spain?

Deborah Thomas: According to the 2000 population and housing census, the population in the area is about 92,000 people and 27,000 households. It's a very large and very diverse area in many ways. Taking the positive aspects, East Port of Spain is the cultural capital of Trinidad and Tobago because it's the birthplace of the steel band and the birthplace of carnival. Every carnival Friday morning we still commemorate on the Piccadilly Greens the Canboulay Riots, which was an early part of the beginnings of carnival.

In terms of culture, we've turned out quite a number of cultural icons. There's also a lot of history in the area; it is the oldest part of the city of Port of Spain, and the seat of the Spanish government when the Spanish ruled Trinidad as a colony. There are some really old buildings including an old jail and two forts. Observatory Street gets its name from an observatory in the area which was the first place in the western hemisphere where latitude and longitude were measured. There are also slave blocks where slaves were bought and sold.

We see that the heritage of the area is quite important and it's something that we would want to always have people remember. The history is there and we think that that is something very positive; it is something that we can build on in order to develop the physical environment. We also have this dream of bringing some kind of urban tourism into East Port of Spain just by noting some of these historic sites and perhaps eventually developing a walking tour.

However, somewhere along the line we also became known for other things that are not quite so positive and unfortunately those are the things that get highlighted more often than not. East Port of Spain is an area with high levels of crime, high levels of unemployment, low incomes and low levels of skills. It's not been an area that there's been a lot of investment incoming from the private sector.

The layout of the area is challenging in some places because the topography is very steep and rugged which doesn't lend itself very easily to development. The geological structure can also be a challenge as well; there's a lot of very hard material there which makes building difficult. There's been some slippage of land and the area also floods.
"

We have a vision for the area's transformation on a physical social and economic level and we continue to work very passionately towards that.

"
Tweet This
TRC: How can you tackle the crime issue?

DT: This company was set up because the government of the day recognised back in 2005 that the challenges of East Port of Spain meant that the area should be considered as a special development zone. They recognised that there needed to be some targeted interventions in the area to make sure that certain things happened, so the East Port of Spain Development Company was set up as a state enterprise with a mandate to redevelop the area to improve economic, physical and social conditions.

We are trying to understand what contributes to crime and how we can tackle those issues. Crime is a multifaceted problem and therefore any approach to solving it also has to be multifaceted so what we're looking at is a comprehensive and integrated approach to the redevelopment and regeneration of East Port of Spain.

We took on as our slogan 'transformation through regeneration'. We did quite a lot of work analysing the conditions in the area, engaging the communities and talking to people. We put our findings into a development plan which we drafted in 2009 and then went around doing a series of extensive consultations with the community. In the meantime we also tried to start implementing a series of projects, mostly physical infrastructure projects, to improve the conditions and the quality of life. There are different strategies for different areas because the communities are not homogenous. Each community has its own dimensions and dynamics and we've come up with a strategy for each one.

One of the strategies that we advocate in the plan is looking at how we can through the design and layout of the built environment reduce opportunities for crime, so we are adopting a behaviouralist approach to crime that says environment determines behaviour. If we can change the environment, perhaps we can influence the behaviour. But in addition to that we also recognise that you have to deal with some of the social issues, so there's need for the social programmes.

When we do physical infrastructure projects we try to engage contractors from the area so that we build capacity. One of the things we did early on was to start a contractor training programme. As part of our procurement policy we have an arrangement so that for projects below a certain value we will engage contractors from within the community. We also require of the contractors at least 75 percent of the unskilled labour is engaged from within the communities because we have to address the unemployment problem. We also try to support a number of cultural and social programmes.
"

What we're looking at is a comprehensive and integrated approach to the redevelopment and regeneration of East Port of Spain.

"
Tweet This
TRC: What kind of programmes have you been supporting?

DT: We've had a challenge in terms of how those programmes can be funded because we receive 100 percent of our financing from central government and that funding has traditionally been allocated for physical development projects. Therefore, we're trying to find other sources of finance for some of the other programmes.

We have developed models for a homework centre, we are supporting initiatives of community groups and other organisations, whether it's by upgrading the physical facility within which those classes can take place or assisting with equipment. We have started to realise the importance of technology in doing what we do. The current government when they came into power started an initiative of providing free laptops for children going into secondary school and we have found that within the communities several children go home and they can't use the laptops because they don't have internet access so we are trying to take internet access into the communities. We're going to set up a number of wireless hotspots.

TRC: Considering the issues that you're dealing with, how do you fund all these initiatives?

DT: 100 percent of our funding comes from the government but we try to get private sector engagement. We've got the support of some private firms. British Gas has been involved in some projects with the ministry of national security and they supported us in providing a children's play park and they are operating a homework centre as well. The private sector can come on-stream; some of them are willing, some of them need to be persuaded a little bit more. I think for them to feel comfortable coming in we have to address the safety issue.

In 2011, we did a comprehensive survey of business establishments in East Port of Spain to understand their challenges and needs to be able to take some of those businesses to the next level and attract more business into the area, so we continue to do that. In the last couple of years there has been a lot of interest from the IDB; in its emerging and sustainable cities initiative Port of Spain was identified as a pilot city, so now there is funding available through the IDB. They have a strong interest in the restoration of the forts and we are working on part of a flood alleviation programme that the IDB is funding as well. This year there was a mission from the Caribbean development bank and we know that they are also interested in how they might be able to support some project initiatives in the area.

We're also finding that even some local agencies are wanting to partner with us in delivering some projects in the area. We seem to be developing a model that's working and we're partnering with a couple of agencies to carry out development projects on their behalf which may be funded from their budgets.

We have a vision for East Port of Spain and we certainly believe that this vision can be realised. We have a vision for the area's transformation on a physical social and economic level and we continue to work very passionately towards that. We still have a lot of convincing to do because I think sometimes it's difficult for people to see beyond the current situation and to see something else. They can't easily see how you can move from this into something different but as a planner I know that it can happen. I know there are examples around the world so it is important for us to keep that vision alive and to continue working in small ways to eventually get to where we want to be.