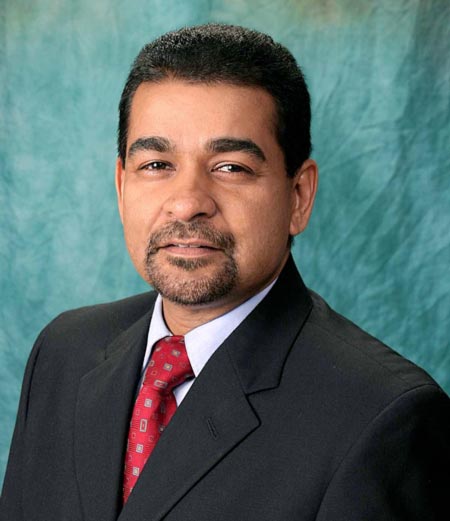 Drawing on over thirty years of business expertise, Kelvin Mahabir leads eTECK in driving Trinidad and Tobago's non-energy sectors for the sustainable long-term growth and development of a diversified and knowledge-based economy. He spoke to The Report Company about the work being done to develop economic zones to encourage innovation within the economy and outlined the opportunities available for investors.
The Report Company: How does eTECK contribute to the diversification of the economy?

Kelvin Mahabir: eTECK develops new spaces for businesses. When investors come to the country they want to locate on a site that has been pre-approved so there are no planning issues. When we develop an estate we develop it with the end use in mind so we zone based on the types of industries that we are going to target.

All our parks except for Tamana InTech Park are 100 percent full so we now have a situation where we have pent up demand for space which means that people have to come and get a greenfield site and develop that. This takes a lot more time than if they had pre-approved space, which is what we provide from the eTECK side.

TRC: How are you promoting Tamana park?

KM: Tamana is our largest park. It's 1,100 acres and on that park you have the University of Trinidad and Tobago's main campus, which focuses on high tech businesses and incubation. We already have people signing up leases on the new lots we have created there and we have a programme which would allow first movers and anchor tenants to get a preferential arrangement to move into the park.

Our first tenants include an energy efficiency company and a medical school that is going to be there from October 2013. We are also in talks with three people who are looking at locating data centres here. The infrastructure in the park is specially made for high volumes of data and we present an advantage for data centres because we have one of the most competitive rates in the world for electricity.

TRC: What incentives does eTECK offer for foreign investors?

KM: As a country we already have certain incentives that we offer, such as the fiscal incentives and removals of duties. eTECK's incentives are infrastructure and land based. What we offer people is a very competitive initial rate of entry. For anchor tenants and first movers there is a period where you pay zero in the early stages of your development and then you move to a market rate subsequent to that.

TRC: What is going to be the future focus and core business of eTECK?

 
"

We are trying to align the whole country's strategy to provide businesses with the ecosystem they need and that is where government comes in with its policy and incentive programmes as advised by InvesTT.

"
Tweet This
KM: We are trying to align the whole country's strategy to provide businesses with the ecosystem they need and that is where government comes in with its policy and incentive programmes as advised by InvestTT.

We have through the ministry of tertiary education and the university started to create institutes that are aligned to the sectors we are going into.

The next missing piece in the puzzle was locating companies when they come here. We have people who will locate in a physical park like ours, or you have people who just want to locate in a small office in Port of Spain. We have a project that has a location that never comes on shore except for people coming to bunker but it transmits and tranships products from Brazil to China. The bulk of their workers come from our maritime institute and that project is doing so well that we are already looking at quadrupling the volume and types of products that are going to be sent from Brazil to China through that single transhipment point.

We are also looking to do onshore transhipment, which is containerised, and will take advantage of the opportunities in the Panama Canal. There are very few ports in the western hemisphere that can take on that size of vessels.

In addition, InvestTT is focussed on promoting the sectors that we're looking at, from ICT to clean technology, animation, fashion and carnival, and the financial and tourism sectors, so they would be bringing financial investors to Trinidad. For those types of investors we would just do facilitation. They may be located at eTECK's parks. For BPO activity we are looking at locating in one of our new parks in Chaguanas in central Triniad because of the highly educated population around that area and the great connectivity.

The first exercise that we did when I took on this role was to understand where the jobs and the new businesses were being created and in which industries. We then llok at what our strengths are, and if a we are not strong in a particular area and a project comes in I will take it and send it to one of our sister CARICOM countries. For example, we have sent projects to Guyana where landmass is important.

TRC: Are there opportunities for you to export the workforce of Trinidad to the countries you send projects to?

KM: Sometimes we can send our expertise. For example, we are looking at another project that has to do with power and that requires people to go and operate facilities. We have about 500MW surplus power here in a plant in the south that was created for an aluminium smelter which was never built and we are looking at the feasibility of taking this power out of the country.

At the same time, we are also looking at world-scale industries and we are currently doing a feasibility study for a solar technology park. The first phase of it has proven to be attractive enough to go to the final stage which is the integration of photovoltaic cell production. It's a huge project; it's a US$2 billion project at its final configuration and it's a possibility for us.

TRC: Are you looking to establish partnerships with any other countries?

KM: China and Latin America are the key markets for us.
"

InvestTT is focussed on promoting the sectors that we're looking at, from ICT to clean technology, animation, fashion and carnival, and the financial and tourism sectors, so they would be bringing financial investors to Trinidad.

"
Tweet This
TRC: What could you offer investors from these markets?

KM: We have an aftercare programme through InvestTT that works with all the investors who have come here to ensure that they are happy in terms of what they are doing and the promises that they have made and also to look at their reinvestment in the economy. Most importantly we look at them bringing in their colleagues from their countries, since they have the experience. Our one stop shop is based on personal relations that have been created across many of the regulatory bodies and it short-circuits across agencies and increases the ease of doing business.

We set up an account manager that works with you, which takes away all the stress. We create a linkage with the key people in the ministries and agencies that we work with to get things like construction permits done quickly.

TRC: What reforms do you think could be made to increase competitiveness?

KM: Construction permits and the enforcement of contracts are the most longwinded processes according to the World Bank Doing Business report. We have dealt with some of the elements such as the registration of companies and the tax element, so a business can get up and running quickly.

In order to put up a building, you need about six agency approvals so we're looking at a number of options there. We've created a special committee for large projects that will fast track those, but that's not a fix. The fix really is to create legislation that drives a faster process. One of the missing elements was an updated spatial plan for the country which will designate zones.

Public service is not an easy thing to change but we are hoping that with the work that has gone in and the involvement of people in the process of the change that people would see benefits of doing it.

TRC: What are the main priorities of your long term strategic planning?

KM: The first thing I decided to do when I joined in 2011 was to create a plan that looked at the horizon and would allow new industries to be created. We came up with industries that had a profile that would in the future create jobs, create business opportunities for people that will generate foreign exchange and would be of the size that would fill the hole that would be left in the economy when gas and oil starts to evaporate.

We set ourselves annual targets as to what size of investments we had to create. We then looked at the year on year multiplier effect of the sectors growing and then looked at the decline in gas and oil over the years and see what is required contextually to fill the void to keep the economy flowing.

This plan tells us that there are opportunities but it also tells us that the world will change and we have core values like speed and agility. We can adapt and we can focus on different things. We have to innovate.

The rebranding of eTECK is a significant effort to innovate in terms of what we had as a model for how we did business in the past. The creation of InvestTT was another innovation of us focussing on what we considered to be processes that were critical to us changing what we did for the last ten years when the diversification discussion started.

TRC: What is your main goal for eTECK?

KM: The creation of a solid foundation that will trigger diversification, both in terms of the infrastructure we're creating to bring new investors into the country and the infrastructure that we're creating physically to locate them is something that I would like to leave behind. Because of my involvement both with the university and with the national training agency I've had a unique opportunity to see this thing almost end to end and I'm fortunate in that respect.