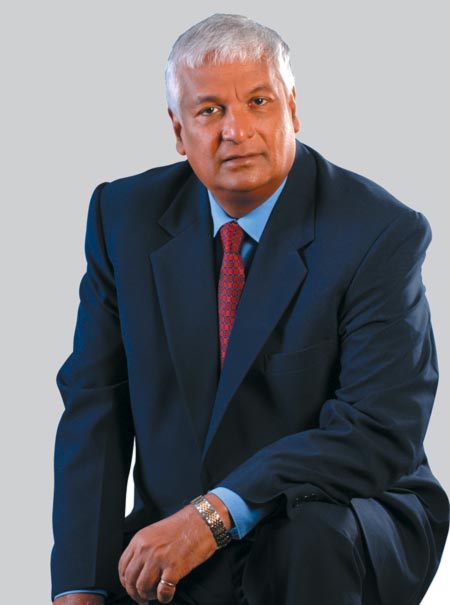 Born in 1943, Winston Dookeran has made it his life's work to contribute to the development of his country. First elected to parliament in 1981, he has been governor of the Central Bank, minister of finance and acting prime minister prior to taking up his current post as minister of foreign affairs. In an exclusive interview with The Report Company, he laid out his vision for the development of Trinidad and Tobago as an important player on the world stage, and talked about the evolution of his country's bilateral relationship with the UK.
The Report Company: You have been in your current role since June 2012. What have been your main priorities and what challenges have you faced?

Winston Dookeran: I have been fortunate, after a very long career in politics and public life, to have the opportunity to top it off with a role in shaping the international image of Trinidad and Tobago. Small countries like ours are neither insulated nor isolated from events outside our borders. We've been able to weather this storm that has taken place around us, and our fiscal and economic situation remains quite solid.

Small islands like ours sometimes feel that they are not useful in global diplomacy. We have been able to put the lie to that during the course of the last year, and this has been reflected in no uncertain terms by the recent high-profile visits by the vice-president of the United States of America and subsequently the president of China. We are currently hosting 14 heads of state from the Caribbean region along with the heads of the Dominican Republic, Venezuela and Equatorial Guinea. All of a sudden, Trinidad and Tobago is being seen as a place that has a diplomatic potential both in terms of the region and in terms of our doorway position with Latin America. All the diplomacy that we have pursued has been predicated on what I call an affirmative engagement, as opposed to a passive approach in the past.

TRC: What is your vision for investment in Trinidad and Tobago, and what role does diplomacy play in encouraging this investment?

WD: Trinidad is the main pillar within the market of the region of around 30 million people. This is a place of large potential and we are seeing a change in the diplomatic appreciation of Trinidad and therefore a change in the flow of investments.

Diplomacy is linked very much to economic opportunities, but we also play a very important role in the multilateral forums. Recently, we spearheaded the negotiations for the arms trade treaty which was finally agreed in the UN after a long and protracted journey. Trinidad and Tobago led the Caribbean movement in this regard and I think that's an example of how we are able to contribute to a global treaty.

This has also been reflected in our quest to bring about some kind of reform in the architecture of the international financial institutions. There too we have advanced many arguments and have had a very fertile debate with the IMF, the World Bank and to a lesser extent the IDB.

We have engaged Latin America through the Andean Development Bank by becoming a full member, which now gives us access to a whole new flow which before now was not open. We have also deepened our relationship with Central America; we are signing a number of agreements with Guatemala. It's all been worked out at a technical level. The idea now is that our diplomacy is focussing in the first instance on the Caribbean region, because we believe that is our home base. That includes the Dominican Republic and Cuba at the commercial level. We know there are diplomatic issues to be resolved and we have always supported Cuba's re-entry into the mainstream of politics in the region. Our process is one of active engagement and also that of the expansion of our economic influence.

When it comes to supporting the foreign investment drive, the local environment is being re-engineered to remove whatever issues that were there before, which includes the ease of doing business. The international atmosphere is being set up and we lend strong support to the Commonwealth of Nations as well as the UN charter.

We are no longer afraid to get out there and take full positions on a diplomatic and political level and to widen the economic space in which we operate and support the region because we see that as our area of primary influence.
"

Small countries like ours are neither insulated nor isolated from events outside our borders. We've been able to weather this storm that has taken place around us, and our fiscal and economic situation remains quite solid.

"
Tweet This
TRC: What would you say has been the evolution with the bilateral relationship with the UK?

WD: A foundation has been laid in the energy sector. British Gas and British Petroleum are two of our most supportive companies. On the issue of the arms trade treaty, they were very supportive, so we have developed a very close relationship with the UK in the last year. I think we have finally moved out of the colonial mindset that for too long had created all sorts of clouds in the relationship. We are now moving into a relationship on an equal basis.

TRC: What is your position on the new air passenger duty tax implemented by the UK government?

WD: Our ambassadors have been negotiating with the UK government to at least have a level playing field on the issue of the airport surcharge tax. They have not succeeded so far, but we still hold a view that this tax is being applied unfairly. It is cheaper to fly to other parts of the world than it is to the Caribbean and that has affected tourism. We hope they will remove the tax in due course.

TRC: How do you see the impact of China on Trinidad and Tobago in the coming years?

WD: One of the things which came out of the Chinese president's visit was an agreement that we would have a Caribbean music festival in Beijing. This reflects a people-to-people relationship that didn't quite exist before.

The other area has to do with the question of development financing. China is now trying to extend its own influence. We are aware that China has a global strategy in terms of establishing their economic presence in Africa and now in Latin America. We are small and we believe that we can partner in some of these ventures with China, especially in Africa.

With respect to our own development financing we have had some very positive responses, but we are very aware that there are always some strings attached. We see ourselves as responding to the new global diversity and the shift in the global political order that is taking place. We are working to find the right relationship. That does not in any way reduce the effectiveness of the relationship with countries like the United States; the US is still our major market but it is now becoming self-sufficient in energy. We were previously a main supplier of energy to the US, and if that is changing we have to find new markets, including those in the east.

The pattern of global trade is shifting and global diversity is shifting. We, however, remain rooted in a fundamental adherence to all the good ideals of a democratic system, which is why we anchor our policy with the UN. We are not going to support violations of these fundamental principles of governance and we will make this known.
"

Trinidad is the main pillar within the market of the region of around 30 million people. This is a place of large potential and we are seeing a change in the diplomatic appreciation of Trinidad and therefore a change in the flow of investments.

"
Tweet This
TRC: What image do you want to send about Trinidad and Tobago to the international community?

WD: We are a society that is ready to take on the rest of the world around us. It's a society that is now pushing forward. Our potential is being converted into very positive diplomatic relationships; with Guatemala, with China, with the UK. We have always invited British investors to come here.

TRC: You recently published Power, Politics and Performance - A Partnership Approach for the Development of Small States. What are the main issues you tackle in the book?

WD: The publication is really a reflection of a country trying to reconcile its past with its future. The past does not change just because you've changed political status. It's now time as we turn the century and diversity has taken on a different global dimension that we confront our future, accept the past for what it is but break from it.

TRC: What is your main goal in your role as minister of foreign affairs?

WD: Trinidad and Tobago could play a very proud role in the changing international scene. I don't think size is a limitation any more. In fact, I think our size could be turned into an asset if we find the right alliances. I would like to see Trinidad and Tobago viewed as a major diplomatic player. To that end we have agreed to establish a diplomatic centre in Trinidad for training for the region and beyond. I'm working with the University of the West Indies and also the UN because I think they want to have a physical presence of some sort here. We've got tremendous support. We see Trinidad as a place for training of the new diplomats of the future. I also think in the future that Trinidad and Tobago has to become a multilingual country in the context of today's world and that's also part of that programme. I see us as we look ahead as being a country that will be respected for its adherence to fundamental principles of good governance in democratic societies. Dialogue takes place openly and frankly. We want to comply and cooperate with all international obligations.

TRC: What are your objectives on a personal level after a long career in politics?

WD: I tell people that I have had many different positions, but I have never changed my fundamental profession. My fundamental profession is the development of the country in which I was born. At this point in time I'm working feverishly and with some passion on what I call the Caribbean convergence.