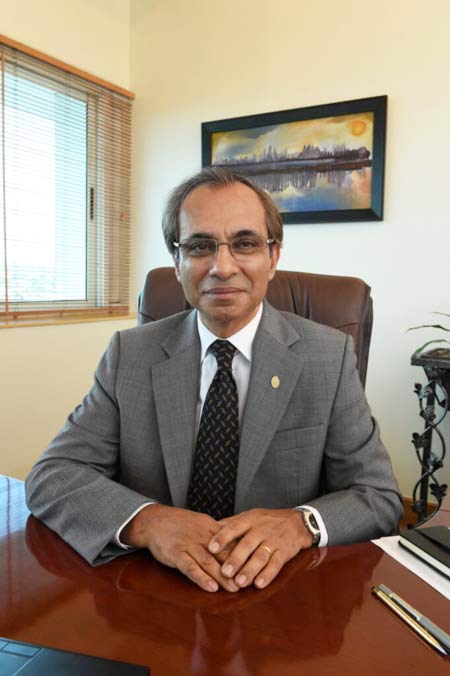 The Aga Khan Development Network (AKDN) is a group of private, international, non-denominational development agencies that work to improve the welfare and prospects of people in the developing world. In Uganda, AKDN has been expanding its activities over the past decade, and is now involving in sectors ranging from infrastructure development to education, healthcare and industry. Mahmood Ahmed, AKDN's diplomatic representative in the country, spoke to The Report Company about the network's main objectives and priorities.
The Report Company: What is the Aga Khan Development Network's role in Uganda and why was the country chosen?
Mahmood Ahmed: We are a development organization which is careful to take no political position, in the sense that we are apolitical as far as we possibly can be. So over several decades we have worked with whichever government is in office. We look very carefully at the needs of the country as articulated by the government and consider engaging in those areas that would assist government objectives but which are also in keeping with our own expertise.
Why Uganda? It is historical. The Aga Khan Development Network is a modern expression to describe a group of development interventions that have grown up over the past 100 years or so. Their origin was in the Ismaili community's own presence in this part of the world. Because of the presence of members of the Ismaili community in Uganda, Tanzania and Kenya, various developmental programs were established in East Africa, for the benefit of society generally, not just the community.
Although we are a private international development organization, we actually see ourselves as a local player. President Museveni has joked with us that he thought His Highness the Aga Khan was Ugandan. And we have this understanding that he is Ugandan, because he has a very soft spot for Uganda and the East African region. Accordingly, the government sees us slightly differently. They don't see us so much as an external party coming to invest in the country, but more like a local player. In fact, our partners also value us greatly for our local knowledge.
"

Many people think of us as being some sort of funding or philanthropic organization, but that's not what we are at all. We are actually an implementing organization.

"
Tweet This
TRC: What approach do you take to development in Uganda?
MA: In the democratic tradition, a government has to plan typically in a five-year cycle and therefore many of its decisions are influenced by the need to deliver something tangible in five years' time. Our horizon is often longer than five years.
Many people think of us as being some sort of funding or philanthropic organization, but that's not what we are at all. We are actually an implementing organization, so we will be at the cutting edge of whatever we're doing. We will ourselves deliver the objectives of any program. And in delivering we seek the help of very strong partners who collaborate with us. We don't claim to have the necessary expertise in every aspect of a particular venture so we search around to find the right partners and collaborators. Partnership for us is a very important aspect of the work we do.
We also have a diplomatic angle to our approach which differentiates us from other development organizations. In the context of development, we have established a diplomatic presence in Uganda, Kenya, Tanzania, and several other countries where AKDN is active.
We are a non-state actor in the context of development. We are not a country. We are not a membership based international organization like the African Development Bank and other such institutions which have a diplomatic presence in countries where they operate. Our developmental work has a diplomatic dimension that is rooted in a centuries-old tradition which is apolitical, non-denominational and strictly meritocratic. The AKDN and its predecessors are and have been engaged with the business of improving the quality of life of human beings of any background, particularly poor people, and whilst working with sovereign states, we tend to take a regional approach.
Our attitude to development in the economic branch, as distinct from the not-for-profit social development and cultural branches of AKDN, seeks to bring into play the best principles of the private sector for the objective of delivering public goods. Essentially, when a strictly private sector party invests, it would be motivated primarily by the projected commercial return and risk factors would affect the level of required return on investment. We look at that too, but temper it by reference to what His Highness the Aga Khan has called the "development dividend". These are the additional beneficial outcomes of investment that speak to development and which help us to determine whether or not we should proceed with a project in the economic development sphere of our activities.
TRC: What is meant by a development dividend?
MA: There are the obvious ones, like job creation or capacity building. Import substitution is again another obvious development dividend. Infrastructure development is another. So too is the notion of building high-quality supply chains of local goods and services in the tourism and hotel sector, and the demonstration that it is indeed possible to achieve world class standards by training and nurturing the local labor pool. But the less obvious development dividends are actually more exciting, for example, the effect of an activity on strengthening civil society. This is a dimension of society which is becoming better understood: that for people to have a sustainable good quality of life it is necessary for them to be, in a sense, self-reliant; and less reliant on the state's direct intervention or direct provision of services. We can, through some of our work, strengthen civil society. That is a development dividend.
Another less-obvious development dividend which is important for us as a development network is to cultivate and strengthen people's understanding and appreciation of the notion of pluralism. Pluralism is an important ethic in a racially and culturally diverse society such as we have in Uganda and East Africa as a whole. Although His Highness the Aga Khan as founder of the AKDN is a religious figure, nevertheless, the AKDN is strictly non-denominational. It is for everybody. That is a very important dimension of our overall character.
"

Whilst in the industrialized world, growth is low and under pressure, the growth rates of the East African Community are much higher than anything in Europe or North America.

"
Tweet This
TRC: Where do you see the greatest opportunities for development in Uganda?
MA: If you take the East African Community, it has five countries and a GDP of not more than $90 billion. As a comparison, the UK has a GDP of $2,500 billion. You can just see the scale of the difference. It is like a different universe. Let us compare that with the relative populations. The population of the East African Community is 150 million people in round terms. In the UK it's maybe 65 million. These brief statistics tell us that there is huge potential for growth in East Africa in the coming decades.
That potential can be expressed in almost any area of endeavor. Consider also the growth rates in East Africa. Whilst in the industrialized world, growth is low and under pressure, the growth rates of the East African Community are much higher than anything in Europe or North America, and I suspect that that difference is likely to become even more pronounced.
Take for example the leather sector and the fact that Uganda has some of the best quality hides and skins in the world. These have been historically exported in a raw form to other countries where they are made into high-quality leather goods which sell for a massive markup. We have worked with the governments of East Africa and persuaded them to introduce an export levy on raw hides and skins so that exporters were then induced processing so as to add value. That led to the establishment of leather tanneries which take the raw hides and skins and develop them to a particular stage which are then exported at a higher price, creating jobs and building expertise.
Our tanneries are now looking at manufacturing shoes and boots, and other finished leather goods, which are currently imported at great cost. If Uganda developed all its hides and skins into finished products for export, it is believed the resulting revenue stream would dwarf every other source, including tourism.
Value addition has been a challenge in Uganda for various reasons. One is a lack of knowhow. If outside investors bring knowhow and technical skills at the highest level, they really cannot fail to succeed. But it will take time. One mustn't be impatient about these things; it will take time to succeed. In coffee and in agribusiness the potential of Uganda is massive, given its ideal climate and the fertility of the land..
The Aga Khan said, at the graduation ceremony which took place in February at the Aga Khan University's School of Nursing Studies in Uganda, that history has taught us that there can't be greatness without expanded knowledge. The Aga Khan University is an endeavor of AKDN that aims to address several areas of knowledge and training of special relevance to East Africa and other parts of the developing world, including for example the health sciences, media and communications, and human settlement.
In terms of Uganda the most immediate new project of the Aga Khan University that is being planned is the establishment of a tertiary teaching hospital. It is hoped to locate it in central Kampala because medical students rely for their training on a constant and high throughput of all sorts of cases, typically occurring in large urban concentrations. The aim is to teach and train up the human personnel needed to run quality medical establishments at the highest levels.
The university is investing a great deal of effort in planning and formulating curricula in a number of other subjects tailored for the East African environment, avoiding mimicking the curricula that you see in North America or in Europe or in other advanced economies, but rather taking the best from them and adding new components so as to tailor courses of study for the East African environment.
We have found through our own surveys and research that most universities in this part of the world are struggling to produce graduates who are employable. We think the emphasis needs to change, so that universities produce graduates who are not only employable but who are also focused on the effort to create new jobs, so they need to be innovative and solution driven, trained to seek out new knowledge and contribute to the body of knowledge long after they finish their formal studies. These efforts will yield enormous change for the better in this part of the world in the decades ahead.
TRC: What would you like investors who are considering coming to Uganda to understand?
MA: For international investors, big or small, the advice I would give is to be very careful in making sure if they come to East Africa and particularly Uganda, that they bring the world's best, whether it's technology, knowhow, or skills of any kind. Don't make the mistake of thinking that something that is of inadequate quality in North America or Europe is somehow going to be okay in Africa. It won't be. One mustn't make the mistake of lowering the bar. If you're coming to Africa, come with the best. To draw on a concept I heard from His Highness the Aga Khan, I would strongly advise that they don't fall into the trap of thinking that second-best is good enough for Africa.