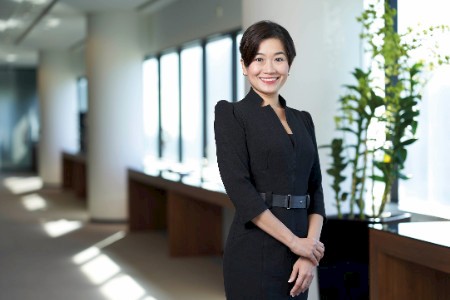 The Singapore Economic Development Board (EDB) is tasked with creating sustainable economic growth in Singapore. The government agency facilitates investment and growth for domestic and international firms, and has worked closely with global companies, including British businesses and talent, who are leveraging Singapore's role as Southeast Asia's leading business hub.
The Report Company: What advantages and opportunities does modern Singapore present to businesses?    
Jaqueline Poh: Singapore is known to be business-friendly, with regulatory certainty. Our status as a stable, predictable, neutral location for businesses, talent and investment has been enhanced during this time of political and economic uncertainty. Singapore ranked as the world's third-most competitive economy in the IMD World Competitiveness Ranking report for 2022, and ranks among the top countries for ease of doing business and strength of global connectivity.  
Singapore is not just a hub for financial services, professional services, shipping and tourism. Manufacturing accounted for about 22% of Singapore's GDP in 2021, up from 18% in 2015. We have become a hotspot for advanced manufacturing, with more industrial firms using digital technology to power production facilities and improve their sustainability, research and development and supply chain management.
In 2021, we secured 7.3 billion pounds of fixed asset investments, most of which were from the electronics, semiconductors and biomedical manufacturing sectors, as well as the digital economy.
Businesses come to Singapore to leverage our vibrant and creative innovation ecosystem. Singapore has the world's best digital environment and support system for entrepreneurs, according to the Global Index of Digital Entrepreneurship Systems released by the Asian Development Bank.
"

As a global city, Singapore wants to attract and retain a diverse,
world-class talent pool

"
Tweet This
TRC: What makes Singapore competitive in the global market?
JP: Singapore is a great entry point to Asia, particularly the Southeast Asian production base and market. Southeast Asia is a region of 650 million people and is on track to becoming the world's fourth-largest economy by 2030.
We have built a vibrant innovation ecosystem with a world-class talent pool that can deliver cutting-edge solutions. We are investing 15.4 billion pounds (S$25 billion) in a Research, Innovation and Enterprise plan that will include translation, commercialisation and innovation strategies.
TRC: How can Singapore's relationship with the UK help Britain meet its goals of becoming a more global country post-Brexit?
JP: As twin business hubs, Singapore and the UK complement each other well. The UK-Singapore Digital Economy Agreement (UKSDEA) which came into force earlier this year brings tangible benefits to businesses around electronic documents and invoices. The UKSDEA's design allows trusted data flows, especially for financial services. It also provides a secure digital environment to be established between Singapore and the UK.
We also hope to expand the scope of bilateral agreements around the green economy and sustainability in the future.
TRC: How can the EDB help UK companies expand their businesses?
JP: UK companies can approach the EDB's London office for help setting up their businesses in Singapore. Starting a business in Singapore is an interesting proposition since it has low tax rates for individuals and companies as well as zero capital gains tax. As a global city, Singapore wants to attract and retain a diverse, world-class talent pool.
TRC: What role does the EDB play in maintaining Singapore's sustainability?
JP: Singapore takes its climate action goals seriously and has raised the bar for its ambitions related to climate change, with a net-zero ambition by 2050. We also ensure that Singapore's efforts are in line with global efforts on sustainable development. The Singapore Green Plan is a blueprint created two years ago that cuts across government agencies, as well as people and the private sector, and explains how we are intending to meet our net-zero targets. 
BIO
Education
Holds degrees from both the University of Oxford (PPE) and the University of Cambridge (MPhil)

Values
Advocates for developing female leaders and improving the lives of Singaporeans through tech and innovation

Successes
Member of multiple boards, including: the Infocomm Media Development Authority; Defence Science and Technology Agency