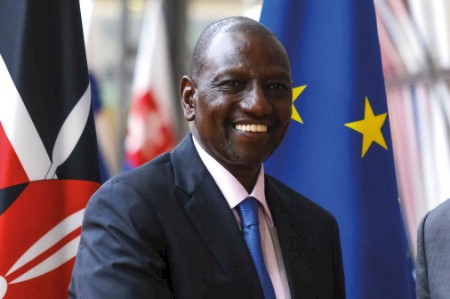 With its status as East Africa's largest economy and one of Sub-Saharan Africa's fastest-growing, Kenya embodies a substantial investment opportunity for US stakeholders, fueled by its potent economic potential.
As the World Bank forecasts an average GDP growth of 5.2% for the next two years, Kenya is emerging as an influential economic, commercial, and financial hub, and a pivotal logistics gateway for East Africa. The country's pro-business president, William Ruto, recently articulated the appealing investment atmosphere, stating there is now a "compelling case to invest in Kenya."

The United States ranks among Kenya's most substantial trading associates, with Kenyan exports to the US amounting to US$543.27 million in 2021, according to the United Nations COMTRADE. The US, during the fiscal year 2022, provided an additional US$324 million in humanitarian assistance to Kenya, demonstrating its strong support for the nation.
"

"Kenya aims to play a critical role in boosting intra-African trade and driving economic growth."

"
Moses Kuria Investment, Trade and Industry Cabinet Secretary
Tweet This
Further evidence of the burgeoning economic relationship between the US and Africa was showcased at the US-African Leaders Summit, held in Washington D.C. in December 2022. Among the 49 African leaders present, including President Ruto, President Biden announced a US$55-billion investment pledge to Africa for the next three years. Private sector companies in attendance committed to an extra US$15 billion in trade and investment agreements, signifying the expanding economic ties between the US and the African continent.

Highlighting the promising potential of the Kenyan market, Dr. Alfred Mutua, Kenya's Cabinet Secretary, spoke at the inaugural Kenya-US Business Roadshow at the Harvard Club in New York on April 26, 2023. This event, organized by the US Ambassador to Kenya, Meg Whitman, drew a large contingent of American investors and business leaders, curious to explore the investment opportunities in Kenya.

During his keynote speech, Dr. Mutua illustrated Kenya's position as the largest and most diverse economy in the East African Region, pitching Kenya as an attractive investment prospect for American businesses eager to access a vast market of over 500 million consumers. Additionally, investing in Kenya offers access to the massive 1.3 billion consumer market under the African Continental Free Trade Area (AfCFTA).
"

"Kenya is well placed in the African continent to be a hub for American investors."

"
DR. ALFRED MUTUA Cabinet Secretary
Tweet This
Reflecting the sentiment of Kenya's robust private sector, Dr. James Mwangi, CEO and MD of Equity Group, highlighted the importance of international partnerships. He stated: "Africa requires partnership with other nations such as the US and a debate on prosperity and resilience is key for both the African and American private sectors as they are the drivers of growth."

Underpinning this view, the USAID's Kenya Investment Mechanism and the Kenya Pension Funds Investment Consortium (KEPFIC) are teaming up to amalgamate funds to invest in alternative assets and infrastructure projects in the country. As Ngatia Kirungie, KEPFIC's Head of Secretariat, pointed out: "Kenya's annual infrastructure funding gap presents private investors with numerous opportunities in sectors including power, transportation, and urban development."
Anticipating the 2023 US-Africa Business Summit in Gaborone, Botswana this July 11 - 14, Kenya is further poised to showcase its attractive investment and business potential.
"

"The US-Kenya partnership is strong, built on sixty years of shared values and interests."

"
Meg Whittman US Ambassador to Kenya
Tweet This