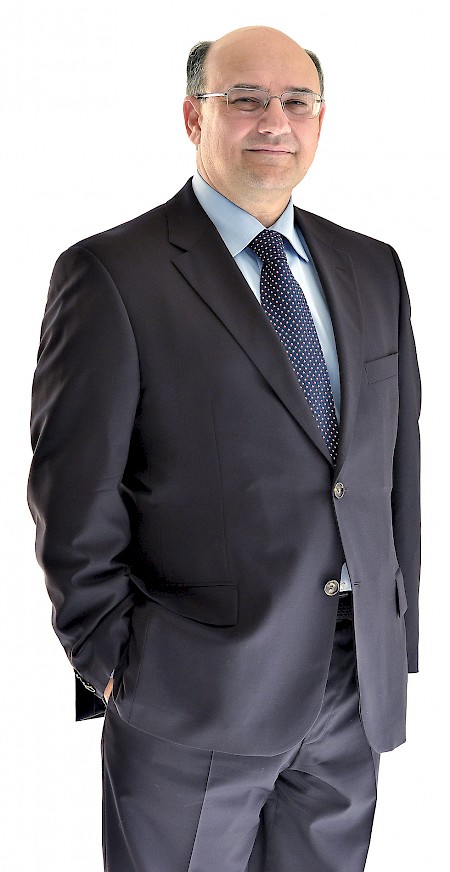 KPMG in Malta can trace its origins back to 1969. The firm provides a complete range of inter-related services to a wide spectrum of local and international clients, and has built its reputation on its people's professionalism, enthusiasm and the contribution to both the economy and the community. Tonio Zarb, who first joined the firm in 1979, was appointed senior partner in October 2012. He spoke to The Report Company about the opportunities in Malta today.
The Report Company: How would you appraise Malta's recent economic performance?
Tonio Zarb: Malta has an open economy that is closely linked with that of the major economies. It is therefore no surprise that Malta's GDP growth has been, over time, strongly correlated with that of the US and Germany. But we have performed better. I think there are a number of reasons for this. One reason is that right before joining the EU in 2004, we went through a period of adjustment, reorganisation and realignment of a number of industries and entities which were not viable, particularly in the public and parastatal sector. That period of adjustment continued after the EU accession, so we were better prepared than most to face the challenges of the economic crises.
Another reason is the fact that fiscal policy over many years has been very prudent in Malta. We have not had repeated devaluations of the currency, and when we joined the euro zone in 2008, it was a fairly smooth transition, so I think fiscally, we are in good shape.
TRC: Which sectors are driving Malta's growth today?
TZ: There are several sectors which have grown in importance over the years, but the biggest growth trend is mostly experienced within the financial services, the gaming and IT sectors – ours is a very services-orientated economy.
In addition, we are not just concentrating on one or two areas, and for a small country this is not very common. For instance, we are seeing growth in other sectors such as aviation, education – mostly English language schools – and the filming industry. Tourism remains the mainstay of the economy which continues to grow year on year. Another growth area is logistics and trade in general and that speaks to our geographic position. If you look at KPMG in Malta, we are servicing all of these sectors and more.
"

Fiscal policy over many years has been very prudent in Malta.

"
Tweet This
TRC: How can Malta capitalise on its strategic location?
TZ: Malta is very much part of Europe, but over the years we have reached out into North Africa and the Middle East and tried to build business in those regions. For instance, we have double taxation agreements with Jordan, Kuwait, Lebanon, Libya, Qatar, Saudi Arabia, South Africa, Syria, Turkey and the United Arab Emirates. We have also seen, as a result of the turmoil in Libya, that people have sought to relocate to Malta until the situation in Libya stabilises.
TRC: How would you appraise Malta's efforts in enhancing the manufacturing sector?
TZ: I think we do have sound incentives for this sector though we may need to evolve these to make them more relevant to emerging industries. There is not much room for manoeuvre because we have to be in line with EU competition law. I think manufacturing is important for us. It would be good if we could see this sector contributing not less than 15 percent of GDP. To achieve this, we need to continue building on what we're currently doing, namely focussing on specific sectors such as electronics and pharmaceuticals.
TRC: How well-equipped is Malta's workforce for the changing needs of its growing economy?
TZ: If you look back 10 years and compare where we were then with where we are now, you will invariably conclude that there was a significant improvement in the development of the expertise, skills and talent on the island in the last decade. What we need to do next is to take this to the next level. The next step is to remain ahead of the game in today's environment, which is very different from what it was 10 years ago. Although a lot of schemes and incentives have helped to bridge the gender gap, we need to increase the female participation rate in the labour market and we need more people to focus on these growth areas. If we want to build on our success, we have to be able to continue evolving our skill set and ensure that the right talent is available.
"

Malta is very much part of Europe but over the years we have reached out into North Africa and the Middle East and tried to build business in those regions.

"
Tweet This
TRC: Seven of every ten new jobs created in Malta are taken up by foreigners. Do you see this as a problem?
TZ: I don't believe this is an issue. Actually, part of the reason we have been successful is that we have managed to attract third-country nationals in the first place. The Mediterranean climate and lifestyle is one of the pull factors. This is part of our competitive advantage. We need to continue to be able not only to grow our own internal skills but also to attract foreign talent. In the last two years, the number of foreign nationalities in our office has gone from three to about 15 and this was not the result of a particular strategy.
TRC: Do you anticipate further growth in the ICT sector?
TZ: There was an expectation that Smart City would take this sector to a new level, but they had a few challenging years as a result of the crisis. However, this is now picking up nicely. Our recent acquisition of Crimsonwing, an international IT company focusing on Microsoft Dynamics and e-Commerce business solutions, means that we are going to need more skills in ICT. A number of long established ICT companies are now growing their operations and are succeeding in penetrating overseas markets from Malta.
TRC: What was the idea and the strategy behind this acquisition?
TZ: Microsoft Dynamics is the new kid on the block in the ERP market, and it's growing significantly. Following our acquisition of Crimsonwing, now rebranded KPMG Crimsonwing, KPMG is today the largest "Big Four" provider of the fast-expanding Microsoft Dynamics market in Europe. The acquisition is consistent with the firm's strategy of building an advisory practice which combines business expertise with the underlying technology capabilities required to implement business solutions.  We currently have over 320 people, 220 of which are based in Malta and the rest in the UK and the Netherlands. We expect to double in size by 2018/2019.