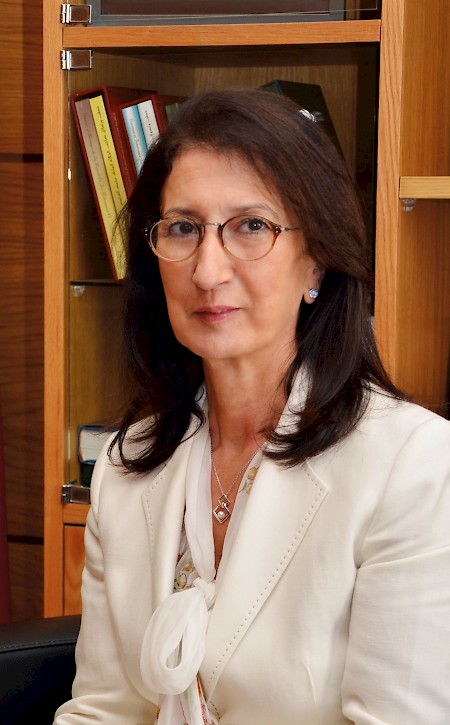 Photo: ONHYM
After serving as minister of energy, mines, water and the environment from 2007 to 2012, Amina Benkhadra, who is known as "Madame Energie", now leads the National Bureau of Petroleum and Mines, or ONHYM. She spoke to The Report Company about the advances in the energy sector and the impact foreign investment is having on resource exploration in Morocco.
The Report Company: You are working in a sector dominated by men, where female representation is extremely low. What has been your experience, what is your background, and what led you to work in the sector?
Amina Benkhadra: It came almost naturally; after doing a science baccalaureate and preparatory classes, I obtained a civil mining engineer degree from l'Ecole des Mines de Nancy and then a doctorate in mining sciences and techniques from l'Ecole des Mines de Paris. I returned to Morocco and I began my career in 1982, joining the Moroccan mining research bureau, BRPM, as a mining engineer. Although there were other, more attractive, job offers, I preferred the public sector because it provided more opportunities. This allowed me to work on the ground in different regions of the country on various projects, like the Imiter silver mine, the polymetallic deposit in Guemassa, the Akka gold mine and a whole variety of other projects. I have learnt a lot as I have moved up the ranks. In 1990, I became head of the investment division at BRPM, which had a portfolio of more than 30 subsidiary companies. In 1994, I was named director of mines within the ministry of energy and mines, and this was the first time that a woman was appointed by royal decree to a position of responsibility. In 1997, I entered government as one of the four first women named by his majesty, as secretary of state. After that, I was named director-general of BRPM in 1998, then director-general of ONAREP, the state exploration company, in 2000. I presided over the merger of the two agencies in 2005, which is when the ONHYM was created.
In 2007, I was named minister of energy, mines, water and the environment. At the end of my mandate in 2012, I returned to lead ONHYM.
In all of my functions, I would pay tribute to the women and the men I had the opportunity to work with.
TRC: During your time as energy minister, the energy sector was very different from today, with oil at around $100 a barrel. How hard is it to attract investment today, given the significant fall in prices?
AB: The energy strategy introduced in 2008/2009 aimed at assuring the security of the supply of various forms of energy, availability and widespread accessibility as well as energy efficiency and respect for the environment. To meet these objectives, the plans adopted aimed for: a diversified energy choice using all energy sources; the development of national resources, especially that renewable energy or the ramping up of exploration in our sedimentary basins; and regional integration with Africa and the Euro-Mediterranean area. This strategy is still valid today.
The fall in oil prices has had a favorable impact on the country's fuel bill and therefore the compensation fund has paid out lower fuel subsidies.
The fall in oil prices has hit the multinational oil companies, who have all cut their exploration budgets. Therefore, we must continue to promote ourselves in order to maintain their interest. That said, 32 international companies remain in Morocco.
"

There is a longstanding tradition of cultural and religious relations between Morocco and the sub-Saharan countries

"
Tweet This
TRC: Nizar Baraka, president of CESE, expressed relief that Morocco chose not to base its economy on oil from the very start. Do you feel the same way?
AB: Of course. Morocco has built a diversified economy, enabling it to develop several sectors from agriculture to industry, tourism and infrastructure. This avoids dependence on any one source of revenue. As concerns the hydrocarbons component, efforts made over the last 15 years have allowed investments to increase considerably.
Different geological, geophysical and geochemical studies and drilling work carried out by ONHYM and/or its partners, both offshore and onshore, have demonstrated and confirmed the existence of many petroleum systems. Following the interpretation of these data, several exploration wells have been drilled across Morocco. This drilling has highlighted modest accumulations of biogenic gas onshore Gharb, a gas discovery offshore Gharb and the Tendrara basin, and gas and condensate in Essaouira. In the offshore sector, the intensification of exploration activity has led to the drilling of six wells which have proven the existence of functional and viable petroleum systems for both gas and oil. Heavy and light crude, gas and condensate have been discovered in the Atlantic offshore.  
ONHYM and its partners remain confident in the future. ONHYM will spare no effort to encourage and increase oil exploration in the Moroccan sedimentary basins either by its own means or within partnerships, and we hope that these efforts will lead in the near future to favorable results.
TRC: ONHYM will partner with OCP in oil shale exploitation; how do you see this opportunity?
AB: First of all, oil shale is not to be confused with oil sands or shale gas. It's an immature hydrocarbon, trapped in very hard rock that only Estonia has managed to exploit as fuel coal for 80 percent of their electrical energy.
Other countries are testing the possibility of new industrial processes with the aim of extracting oil or gas from this shale, but this is still in the testing phase. There are some semi-industrial processes that large companies like Petrobras and Shell regularly try to make advances on. With the fall in oil prices, research into oil shale has slowed down, but we can consider it as a hydrocarbon of the future.
In Morocco, we monitor technological developments constantly, and we develop partnerships with international companies to test their pilot processes.
TRC: How would you appraise the development of Moroccan know-how in hydrocarbon research?
AB: We have specialized teams within different fields. ONHYM puts a special emphasis on the training of its staff. Engineers and executives at ONHYM undergo medium to long term training overseas as part of our partnership with the IFP in Paris, the Repsol foundation in Madrid, and the University of Texas. With regard to the technicians, they are equally well-trained and specialize in petroleum geology, in drilling or in production.
Moreover, thanks to the support program by Chevron and Kosmos, and in partnership with the engineering schools in Rabat, petroleum engineering training programs have been introduced to train engineers as of 2016, with the option to fast-track certain trainees in response to market needs.
"

ONHYM and its partners remain confident in the future. ONHYM will spare no effort to encourage and increase oil exploration in the Moroccan sedimentary basins either by its own means or within partnerships, and we hope that these efforts will lead in the near future to favorable results

"
Tweet This
TRC: Morocco has become a strong ally and partner for the US in the greater region. How do you see this cooperation playing out in the energy sector? Do you see ONHYM playing a greater regional role?
AB: There is a longstanding tradition of cultural and religious relations between Morocco and the sub-Saharan countries. His Majesty King Mohammed VI has given a strong impetus to economic development. This economic cooperation is deployed in different sectors, such as housing, health, telecommunications, banking or even insurance. Energy is also important: the ONE (National Office of Electricity) is effectively present in 11 countries with the aim of developing electrification, sanitation and supply security programs in rural towns, as well as monitoring progress.
We work on strengthening interconnections with the South via Mauritania, and between Mauritania and Senegal. We enjoy a strategic position for developing an interconnected network to the South and the East. All of the countries visited request assistance from the ONHYM, within the framework of South-South scientific and technical cooperation, in mineral and oil exploration, and also in the field of training.
We wouldn't rule out the possibility of working on exploration permits with countries like Guinea or Mali; that's something to analyze and strengthen through public-private partnerships.
TRC: Casablanca is a major destination for foreign direction investors in the financial sector; how can it also attract investment into the mining sector?
AB: We indeed have many international companies that have chosen Casablanca as a base for their regional headquarters. With regard to mining, a new mining strategy was prepared in 2011, and it is being deployed today. The main achievements are the enactment of a new mining code, the re-launch of geologic mapping, an overhaul of the CADETAF mining zone, and promotional activity. All of this will enable us to introduce more dynamism to the sector.  
TRC: People call you "Madame Energie", and the magazine 'Jeune Afrique' named you one of the 25 most influential women in Africa. What does this mean for your work leading the ONHYM?
AB: I don't mind being called "Madame Energie" at all. I have been working in this field for more than 30 years, so it's fine by me. I am happy and proud to work in a so strategic sector Our mission at ONYHM is to develop the exploration of mineral and petroleum deposits, strengthen the attractiveness of these two sectors to boost domestic and foreign private investment with the ultimate objective being to make discoveries.
Since the recent merger, ONHYM is in the upstream sector, in exploration and investment promotion, and is no longer involved in management and exploitation. In the mines, as well as our programs, our objective is to set up a mining fund and attract new partners. In hydrocarbons, we have to continue with the studies we are carrying out and attract even more companies. Ninety-five percent of oil investment is done by international partnerships, which allows us to enjoy all the benefits of exploration. In the field of geo-scientific research, we aim to maintain a level of excellence and quality in our human resources. 
TRC: What are the main challenges you face and what motivates you in this role?
AB: This is an exciting sector that plays a large role in global dynamics. Energy is at the heart of all of the world's political and economic issues. I am very passionate about what I do. Generally speaking, as a woman, the first challenge is to demonstrate that I am living up to my responsibility. We have to show that we are not only equal but that we can surpass the limits set. With this in mind, I want to strengthen the capacities of women, and give them the chance to work in a less hostile environment. That said, I believe that everyone should do with abnegation.