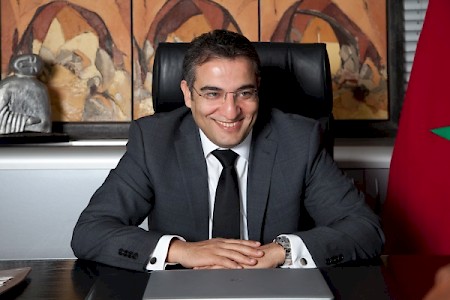 Photo: SMIT
With stunning cultural, natural and historical heritage, Morocco has long been ranked among the world's best tourism destinations. Imad Barrakad, who leads the country's tourism development agency, SMIT, shared with The Report Company his insight on the challenges and opportunities for investors in the country's tourism sector, and outlined his personal viewpoint on the country's economic and social progress.
The Report Company: How do you ensure that your activities are in line with market demand?
Imad Barrakad: SMIT deals with two aspects. The first is the engineering aspect, which defines development policies by establishing the strategy and design of a tourism product; and the second aspect is investment promotion in Morocco, through a strategy based on public-private partnerships.
Today, the private sector remains the largest investor in tourism, while the state takes care of attracting private investors and supporting them in terms of facilities. Tourism investors start by analyzing the political situation of a potential destination, and stability is the primary factor.
With regard to the markets, we focus primarily on the demand, which is an important tool when it comes to building our tourism product intelligently. Secondly, we take an interest in source markets other than our traditional markets, such as those in Europe. We look for new source markets in the Gulf countries and China, as well as in English-speaking countries. Morocco is increasingly developing in the English language in order to overcome language barriers and open up to the world.
Time flies, but investment cycles are long, and that's why we establish strategic partnerships. The public-private partnership formula steps up the pace of investments, and we are already halfway to meeting our ambitious goal of 50 billion dirhams in investment by 2020.
"

Time flies, but investment cycles are long, and that's why we establish strategic partnerships

"
Tweet This
TRC: Which priority segments do you aim to develop within tourism?
IB: We have put in place a regional strategy. We no longer rely on a single product offering, but rather on competitive clusters with cultural positioning.
We have four cultural regions which represent singular and unique ecosystems. Our approach is one of sustainable development, wherein we maintain and incorporate the existing surroundings and their authenticity. This enables us to ensure the coexistence and diversification of tourism products in each region.
The Tangier-Tetouan region, for example, has a huge cultural appeal thanks to its seven medinas. It is becoming a cultural destination and has everything in place to attract tourism investment: this is an international region, close to Europe, with a Spanish flavor. We also have a strategic priority to upgrade the Ksar Kebir-Ouazzane-Chefchaouen region.
The second focus is on natural tourism. Inland Tangier-Tetouan, in places such as Chaouen, is highly suited to nature tourism development, with its eco-lodges, mountains and landscape. As tourism demand moves more toward this type of offering, we see this bringing in various external investments.
The third focus is beach and resort tourism. This complements cultural tourism to regions also known for their coasts. There are three major private tourism resort projects: Larache, Tangier, and Tamuda Bay, while the state is working on increasing the region's attractiveness by upgrading assets and facilities.
The fourth focus is on business, whereby a region can capitalize on its tourism potential by creating an exhibition center which will allow trade shows and attract not only tourists but also industrial investors.
Not to mention the major projects that fall within this regional framework, such as the transformation of the port of Tangier, and the city of culture project which is currently underway.
With regard to regional planning, our strategy translates into resource sharing throughout the region through job creation and the redistribution of profits locally. Overall, we will develop eight equitable tourism clusters across the country.
TRC: What role does SMIT play in resolving any problems investors may meet with?
IB: We are not there to solve problems; the role of government is clear in this regard. Our role is to bring standards up. SMIT provides technical assistance to put together plans for a tourism project, from initial vision to design, specifically when it comes to developing business plans for investors.
TRC: Do you therefore provide ready-made projects, or do investors have room to choose?
IB: We do not impose anything on anyone. We create and develop opportunities which have already been envisaged by investors. We offer them a well-designed plan, and we are well-positioned to guide them. When a proposal makes sense, it is difficult not to take up the opportunity. We are the specialists in the sector.
"

Our approach is one of sustainable development, wherein we maintain and incorporate the existing surroundings and their authenticity

"
Tweet This
TRC: What more would you like to see today within the portfolio of tourism investment?
IB: We are already fairly well advanced in the development of strategic partnerships with our source markets, notably through the Wessal project with the Gulf countries.
In terms of capitalizing on private equity funds, we work with the Moroccan Pension Fund. Tourism requires long-term investment, but we are hungry to see the results now.
TRC: What challenges do you face in your leadership of SMIT?
IB: The first challenge is in directing investments outside of Marrakech. In the interest of sustainability, we have to ensure that our destinations are developed in a balanced way and that wealth is not concentrated on just one region. This approach requires great effort and strategic projects in these regions.
The second challenge is the business component. You need a good design. It's easy to sell a dream, but it's still important to think it through properly.
TRC: The real estate sector has seen some recent scandals involving local partners of foreign investors. Has this had an effect on SMIT?
IB: Our challenge, which we share we others, is to ensure the profitability of investments. It is true that the first tourism investments were in real estate. Investors put their funds where there is the greatest margin, but the safest investors are the oil investors from our source markets who have invested their profits in tourism. We must continue to guide them towards these assets while maintaining the dynamic of the real estate investments.
TRC: You have been involved in various sectors prior to coming to the tourism sector. What is your appraisal of tourism as a sector?
IB: I feel very confident. Wherever I have been, I have always felt confident because the challenges I have faced have been overcome. SMIT addresses tourism via the important financial aspect, and several sectors are involved when it comes to building a tourism destination.
We have two major assets: the first is that our King is dynamic, and he has been the first to promote Morocco as an investment destination, across all sectors.
Our second asset is the strong economic dynamic that his Majesty has created. This enables us to consolidate our processes. He goes out and campaigns on all fronts of economic diplomacy. Our government is also evolving along this dynamic that the King has put in place. We are maintaining this pace and will only continue to do so.
TRC: The King has also spoken of intangible capital. What does this mean to you in SMIT?
IB: When we talk of land sharing this means all of the resources therein, and this sharing also takes place at a local level. From the very beginning, our development policy has been based on sustainability. The first component is social; everything that is built is done hand in hand with the local community: we recruit local people, we train them and we put forward their strengths to investors. The second component is economic. The third component is environmental: all the strategic growth studies take into account the environment, such as in the case of Marrakech, where there is a focus on water preservation.
There is then a fourth component, which includes the other three. It is the balance; essentially, we will do nothing in one component that could jeopardize one of the others. Our structural programs maintain these three axes well-balanced, in order to minimize any negative fallout. Tourism is the second largest source of income for the country, making up around ten percent of GDP. For me, the glass is half-full and I am very optimistic for Morocco.
"

In the interest of sustainability, we have to ensure that our destination are developed in a balanced way and that wealth is not concentrated on just one region

"
Tweet This
TRC: What project matters the most to you right now?
IB: The regionalization project and the competitiveness clusters are important, as they go along with the countrywide regionalization policy that Morocco is implementing. The tourism offering is no longer limited to hotels, but instead covers entire regions. We have to highlight the diverse environments we have, which are specific to each region.
TRC: What motivates you to come to work each day?
IB: The women and men who work with me. Our average age is 40 years old, and I'm the oldest. They bring in ambition, the desire to succeed, and innovation, and all of this helps me to manage them and for us to move forward.
TRC: Where do you see SMIT in five years' time?
IB: We want SMIT to be among the champions who took part in this dynamic. Rather than working alone, we work in an interdisciplinary manner with many players in areas from transport to security, taxation, administration and energy.
This sprawling industry is the driving force for many other sectors in the country. We want to be part of this engine that propels Morocco's economy.
TRC: What would you say to attract tourism investors?
IB: That's simple: Morocco is very beautiful.