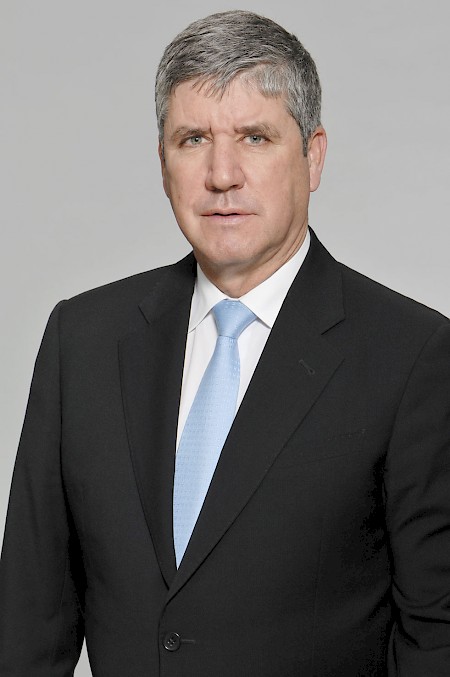 Swiss private bank Lombard Odier has been present in Gibraltar since 1987, and offers portfolio management services for private clients and asset management solutions for family offices, insurance companies, pension funds and independent asset managers. Peter Caetano, a Gibraltarian who has spent the majority of his 35-year banking career abroad, returned home to head the bank in March 2014. He spoke with The Report Company about the importance of the jurisdiction as a banking centre.
The Report Company: What is Lombard Odier's history and current status in Gibraltar?
Peter Caetano: Lombard Odier is the oldest private bank in Geneva, and one of the largest private banks in Switzerland and in Europe. The bank is very focussed, and its expertise is in managing client assets; that is our main and single focus; with a very global perspective. It's an independent partnership wholly owned by its managing partners, and it is has a strong and liquid balance sheet.
We've been in Gibraltar for 28 years. We started out as a very small operation; I think we had about three people in Gibraltar originally and today we employ almost 40 people. The group itself was founded in 1796, there are currently six managing partners and we have a total of CHF161 billion of assets under management, with a total of CHF215 billion of client assets, as at December 2014. We employ 2,100 employees worldwide and our Basel III CET1 ratio, is 22.6 percent. We have a AA- rating from Fitch, which is one of the highest possible for a bank of our size and nature. We have 26 offices operating in over 20 different countries.
TRC: What do you see as the key advantages of being located in Gibraltar as compared to larger and competing jurisdictions?
PC: Gibraltar is obviously a small place, but we see this as an advantage as the financial industry has been able to work closely with successive governments and regulators in shaping what Gibraltar is today.
Gibraltar is a highly-respected European finance centre, and there's a lot of interaction at all levels of the community. We have a good set of experienced professionals, not just in the banking sector but in other areas such as legal, accountancy, and tax advice and we have a sound legal structure. We see Gibraltar as a one-stop shop that is able to cater for the most complex clients.
In terms of costs, the fact that we have reasonable corporate and individual tax rates makes it attractive, and the quality of life in Gibraltar is very good in every sense.
Size does matter and in this case being small helps. We are so close to each other; the financial services commission is literally 100 metres down the road. We can pick up the phone and talk to the minister for financial services, so there is essentially a consultative approach in the financial sector locally. There is a finance centre council where all the professional associations are represented, including the local bankers' association. We all talk to each other constantly and have an influence on the way things evolve and develop.
We have worked hard in Gibraltar to position ourselves as an onshore jurisdiction and this is important to Lombard Odier; we carefully select the countries where we want to be present and Gibraltar is one of them. It allows us to have a footprint in Europe from where we are able to passport our banking and investments services across the EEA. We have other offices, of course, in Europe: Luxembourg, London, Paris and Madrid to name a few, but Gibraltar is one of the oldest of the external offices.
TRC: How would you respond to claims by Spain that Gibraltar is a tax haven?
PC: The Gibraltar government has implemented all the European regulations relative to tax matters. I would refute any claims that we are an offshore finance centre. Certainly the banks do not knowingly cater for non-tax-compliant assets.
TRC: What are the main activities of the office in Gibraltar?
PC: The Lombard Odier Gibraltar office is totally independent. We don't outsource any of our functions. We have our own portfolio managers and relationship managers here, offering a discretionary and advisory portfolio management service that is run out of the office in Gibraltar. We can count on the group IT platform and in fact we actually look after the IT needs of some of the other offices. We have our own operations department, so all the processing is done locally, and until very recently we were actually doing the processing for the London office. It has served as a base for the group in terms of expertise.
We have a young and highly competent and qualified team.
TRC: How would you appraise the availability of suitable human resources in Gibraltar?
PC: One thing I have seen, having come back after 20 years, is that there are many more qualified people coming back from studying abroad, particularly on the legal and compliance side. We really haven't had to bring anybody else from outside. All our staff is recruited locally and we have a real melting pot of nationalities. We find that whenever we do have a vacancy, people really do value the possibility of working for Lombard Odier in Gibraltar.
"

We see Gibraltar as a one-stop shop that is able to cater for the most complex clients

"
Tweet This
TRC: What services do you offer?
PC: Essentially as an investment manager, we aim to have a fully discretionary mandate. That is what we are experts at. We can deal in most currencies, but the majority of our portfolios would be in sterling, euros, US dollars and Swiss francs. We can also provide an execution only or advisory service for clients who don't want to have the bank managing their assets. We have our own panel of funds, and then we have an open architecture approach where we will analyse funds that are run by other institutions and then place them on our recommended list if we feel that that is appropriate.
TRC: Where does your client base tend to come from?
PC: It's a very mixed client base with the emphasis probably on UK residents because of the language, currency and very similar laws. We do a fair amount of business with insurance companies locally and we provide management expertise for their portfolios. That is a quite specific area of work, where we have gained expertise locally and a very good reputation. Then we also have Swiss independent asset managers who have set up in Gibraltar as a means to passport into Europe.
TRC: Why would someone come to the Gibraltar office instead of going to Geneva?
PC: The independent asset manager area is one that we're seeking to grow in and we're seeing greater and greater interest in Gibraltar in that respect. As opposed to Geneva, there's no stamp duty or VAT in Gibraltar so this is an advantage. I think we also provide a very personalised service and our size does help in that respect.
TRC: What impact do you expect to see from regulatory changes such as the implementation of the AIFMD directive?
PC: AIFMD was a directive that was implemented in Gibraltar in 2013. We have applied for a license to the financial services commission to be able to provide AIFMD depositary services, and we're expecting to have the authorisation very shortly. It is important for us that we are able to provide this service to our existing clients, and this will also enable us to attract further business.
Solvency II is moving towards us and we need to be able to report in a way that makes sense in terms of this regulation for insurance companies. We have until the end of next year and we're putting a lot of effort into getting ready for this important milestone for insurance companies. When we get there it will make it increasingly and additionally attractive for insurance companies to be able to use us.
TRC: Do you see opportunities in the pensions business?
PC: Lombard Odier in Switzerland manages a number of fairly sizeable pension funds and out of Gibraltar, the scale is smaller, but we have the expertise, the knowledge and the capability. Lombard Odier's own pension fund was awarded by IPE in 2012 and in 2013 for its risk based approach.
TRC: How does Gibraltar compare to other jurisdictions and how are you contributing to getting the word out about what Gibraltar has to offer?
PC: In Gibraltar, we have the equivalent capabilities of just about any other jurisdiction. We have the Gibraltar Days as a platform for promoting Gibraltar and these take place in a number of jurisdictions. As an institution, our relationship managers travel far and wide, so this is a good way of making ourselves known.
TRC: What is your approach to corporate social responsibility?
PC: At Lombard Odier, social responsibility is part of our DNA and as far back as the middle of the 19th century, Alexander Lombard helped Henri Dunant create what is today the International Committee of the Red Cross, and we are still involved with the International Red Cross today.
As a firm, we are committed to principles of equality and sustainability and wellbeing, both in our working practices and our investment activities. We were amongst the original signatories to the UN Principles for Responsible Investment, and in 2014 we were assessed as having the first quartile performance for our global approach to socially responsible investing.
Equally important to us is that our products and services allow our clients to mobilise their capital for good. Both institutional and private clients are increasingly concerned about the impact of their investments on society and we have therefore developed a proprietary methodology to help our clients assess the impact of their portfolios and take concrete steps to align their investments with their values. 2014 also saw the launch of a new impact investing strategy which is measured on both its financial and its social performance: the double bottom line. In the seven months since its launch, it has raised more than $100 million and helped finance 55,000 micro-entrepreneurs and 46,000 small farmers in emerging economies. It is hoped that these kinds of innovative investments become part of many traditional portfolios.
"

We have worked hard in Gibraltar to position ourselves as an onshore jurisdiction and this is important to Lombard Odier; we carefully select the countries where we want to be present and Gibraltar is one of them

"
Tweet This