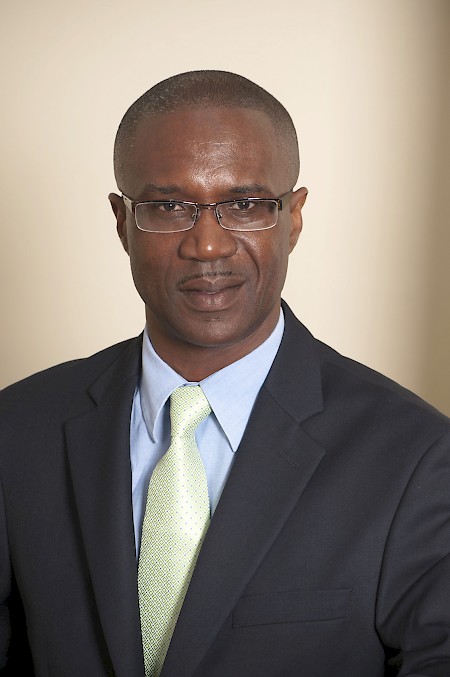 Photo: Barbados Port Inc
Barbados Port Inc. was created in 2004 to replace the old, state-owned Barbados Port Authority. David Jean-Marie, who served the former Barbados Port Authority in various key roles, has led the entity's transformation from inefficient corporation to a nimble, commercially-focused operation. He spoke to The Report Company about the port's contribution to the growth of the Barbadian economy, and its role in facilitating the Going Global programme.
The Report Company: How would you define Barbados?
David Jean-Marie: This is a country with warm friendly people who are highly educated. Barbados has a very high literacy rate which at one point was the highest in the world. We value education and human resource development. This is a country that is safe; it is one of the safest countries in the world. The country strives to be best in class, given our small size and limited natural resources. We are very service-oriented, as with our financial services sector, and we continue to grow and develop in a sustainable manner.
TRC: What is behind the high quality of human resources in Barbados?
DJM: Our education system was originally based on the British model, since independence to now, and the policy has been to provide free education at the primary school level, the secondary school level, and the tertiary level to a significant extent. That has propelled us to the position where we can boast of having one of the highest literacy rates in the world in Barbados. As a result of that, we can export some of our human resource capability. We have people who are very literate and therefore who can perform in high-level roles, and we believe that all of that has resulted in us maintaining a very low crime rate.
"

We have removed the tariff on exports to facilitate trade out of Barbados

"
Tweet This
TRC: What role has the port played in the growth of the economy?
DJM: We were a sugar-based economy several decades ago, and in fact the port was built as a sugar port handling thousands of tonnes of sugar per year. A transformation took place in the early 1960s where processes were rationalised, and over the years we have moved away from that industry.
Today the port accommodates about five mega cruise ships, and that will be the same throughout the season which runs normally throughout November to April. This port, that is over 50 years old, is accommodating these multi-million-dollar vessels.
The port is doing its part to encourage and facilitate exports. We recently agreed to have all exports free of port charges.
TRC: Does the port handle both cargo and cruises?
DJM: Ninety percent of the goods coming into Barbados come through the seaport, and all of the cruise vessels come here. We give cruise vessels priority over cargo vessels, but that creates a problem for us. We are therefore seeking to have a separation of cargo from cruises, so we plan to build a cruise facility just to the south of the port. It is not the best thing to have multi-million-dollar cruise vessels coming to dock in the cargo port and having the passengers looking over at the port where we are handling other goods.
The new cruise facility is all designed, it is just a matter of having the right financing structure. It is around a $250 million project. We also have a $100 million project for the reorganisation of the port facility itself, which we have already commenced. We have begun to acquire new modern equipment, including at least five straddle carriers and a new Panamax gantry crane. We have made deeper draughts and we have dredged and reclaimed acres of land, so we are building capacity as well as modernising the equipment to be able to accommodate bigger cargo vessels.
"

Our vision as a country is to encourage a portion of those passengers that embark from Barbados to stay on the island a few days before or after their cruise

"
Tweet This
TRC: How can the port handle and accommodate the anticipated rise in exports from the Going Global programme?
DJM: The best way that we can participate in that transformation and growth is by firstly ensuring that our port is compliant with all types of international standards in terms of security and quality. We also are going green. We want to move more to electrical power rather than diesel being burnt while the ships are in port. Our workforce is being certified to international levels to ensure that we guarantee the service. That is the best way that we can contribute towards the growth in exports as well as the fact that we have removed the tariff on exports to facilitate trade out of Barbados.
TRC: As a cruise port, what kind of experience would you like passengers to have?
DJM: The obvious response is for them to want to come back to this place. We want to have a port that is not a container or cargo port, but a port that remains in your memory and leaves a lasting, positive impact.
TRC: What are you doing to boost cruise business?
DJM: We have as a national strategy a plan to develop home porting. We have a growing segment of cruise tourism where passengers, particularly from the European segment, fly in to Barbados to take a cruise, and then debark in Barbados. This is home porting. Currently we have about 17 vessels that do partial or full home porting operations in Bridgetown, including the Britannia out of the UK, which is one of the largest vessels that docks in Barbados. The European segment is very strong for home porting, and our vision as a country is to encourage a portion of those passengers that embark from Barbados to stay on the island a few days before or after their cruise.
We expect to have 16 new vessels in Barbados this season. We are pleased about the growth in that area, and we have changed the legislation in Barbados to allow the casinos to be open on the ships after hours to encourage the ships to remain in port for longer and then maybe some of those passengers will use the opportunity to do tours around the country. With the tourism marketing entities, we have refreshed our products and attractions so that there are things for passengers to do here.
"

We are implementing competency-based training for all our workers so that all of the workforce can work at any port in the region

"
Tweet This
TRC: How would you appraise the relationship with the UK?
DJM: The relationship is strong because of the history. Barbados is like Little Britain; when you go around the streets of Bridgetown you see the streets are named after English princes, so there is a history there that we have with Britain that is still sustained and it helps us. It has broadened a bit, we have become better known in Europe, we have German business coming in and we are trying to get into those other markets with some success. We see them as important. We also have a lot of people who have left Barbados over the years and gone to those countries to live, and that is an important part of the history as well.
TRC: What would you like to achieve during your time in this role?
DJM: We have a good team in the port with very dedicated managers. We have a port masterplan that we are working towards implementing, and we want to transform and modernise the port infrastructure equipment as well as the systems. We want to have a certified workforce that can work anywhere in the world, and we have already embarked on a programme to send young cadets out to be trained to the highest international standards so that they can confidently berth these mega vessels that are coming to Barbados. We are implementing competency-based training for all our workers so that all of the workforce can work at any port in the region.
This is a modern facility that is completely different to what it was and it has been structured to make sure that it is competitive and there is maximum operational efficiency. We want to be known as a port that performs well in terms of ship turnaround time and that is available for the services that ships demand.
I have just been elected as the president of the Caribbean Shipping Association, and I therefore want to have more collaboration between regional ports, so we have signed a number of MoUs. We want to see more being done in terms of training and collaboration so that we can maximise the services provided by the region in terms of shipping.
We are striving to become and expect to be the best in class port in the region, both from a cargo perspective as well as a cruise perspective. This is a safe destination with lots to see.