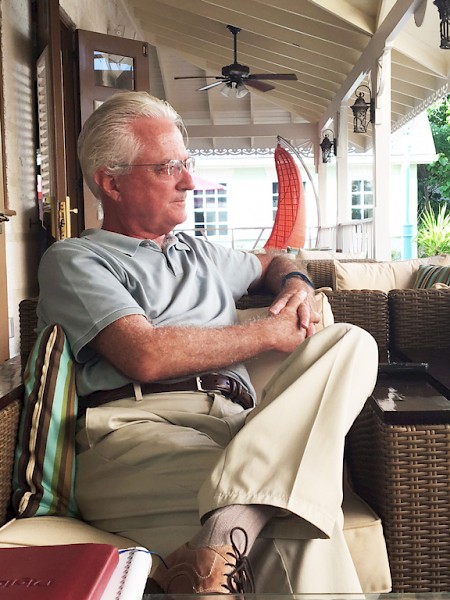 Photo: The Crane
The Crane markets itself as being at "the intersection of heaven and earth", and this isn't too much of an exaggeration – it is located on the world-famous Crane Beach, repeatedly ranked among the best beaches in the world. The Caribbean's first resort hotel, it was first opened in 1887 and has since been fully restored and expanded, offering ocean-front property for long-term or second home living; luxury fractional ownership, or vacation club possibilities.
The Report Company: You came to Barbados in 1988. What attracted you to the country?
Paul Doyle: I had made a decision to move somewhere within offshore business and came down to a relatively short list. Barbados came out well ahead back in 1988 and I'm sure it still would today.
TRC: The Crane has been around since 1887, at the time it only had 18 rooms. It has since grown to become a self-contained village. What is your vision for the property?
PD: We didn't start expanding until 1999, and when we expanded we decided to create a hybrid of a residential property with full resort facilities. Because of the residential aspect, we developed the central amenities as a village. That's in keeping with the fact that The Crane is the oldest hotel in the Caribbean. We decided to create a village as it would have been back then and renovate it up with shops, bars, restaurants and the amenities that you would expect. It added a lot of interest and it now has become a central part of our community. Indeed, the sense of community here is very important.
TRC: Is the distance from Bridgetown an issue?
PD: The people that are attracted to The Crane are primarily attracted because we are out of the way. It is tranquil and it is exactly as you would imagine the Caribbean to be like. Barbados has lots of activity, and some of it is quite commercial, and that is another side of Barbados, but the people who come here don't want that. They just want to be at one with nature and enjoy the beautiful breeze.
"

The Crane is the oldest hotel in the Caribbean

"
Tweet This
TRC: What kind of properties are available within The Crane?
PD: There are two types of offering. The first one that we started with was luxury fractional ownership. What we are most proud of is that our offering is unlike anything else in the world, in that most people in our business spend far more money on sales and marketing costs than they do on what you buy. We have broken that mould and really spend virtually nothing on sales and marketing, and we also stress value. For a lot of people in our business, value and luxury are opposites, and we have really worked hard to bring them together. To help with that, we do all of our own architecture; the architects are our employees, the engineers are our employees, all of the construction workers are our employees. We do everything to keep our costs down, and we don't waste our money on the marketing that our competitors may do, so we are able to come up with prices on the luxury end that are between a quarter and a fifth of what our luxury competitors will offer for the same product. We are the highest rated in the world for exchange value on the luxury end, and owners here can trade off and go to other very luxury properties all around the world.
The second offering is now purely residential, which people are buying here as second homes. We started out a couple of years ago and it has been extremely successful. A lot of our customers were people who had already bought large fractions and that now want the whole thing. They come for seven or eight months a year, then have us rent it for them when they are not here. Our rental pool has been very successful. Every single week, every single unit in every single year since we started this about 15 years ago has made a small profit.
"

Some people feel that value and luxury are mutually exclusive, and we are here to prove that that is not true

"
Tweet This
TRC: What is your biggest market?
PD: Our largest market is the UK, followed by the US and Canada.
TRC: What would be your message to potential customers?
PD: I suppose there are two main points. The first is that we don't try to satisfy all the markets. We do extremely well in terms of satisfaction and working with people that are looking for upmarket products and that who are not snobs. It turns out that this is a relatively decent-sized niche. The people who come here absolutely want to have a wonderful time in a luxury environment, eating good food and having the best of things, but they want to come and relax. So we offer them a friendly, relaxed and comfortable place.
It's down to earth; you don't need to worry about the size of your diamond earrings because nobody cares. That is quite a different message than in a lot of places that you visit. We are not about being seen. As a team we are down to earth, and we appeal to people of like mind. And what we sell is natural beauty. That is our big message. We are in one of the most beautiful places on earth, so we needed to design something architecturally that is in keeping with the nature around us, and that is not an easy thing to do. We also needed to take into account the cultural heritage, because the history of this property runs deep in the country. And because of what we have marketed, we have actually attracted a great group of people that help form a sense of community.
This also goes with the relationship with the staff; they are very friendly. When you go to restaurants in the United States, the waiter will often start with a bit of a speech and it's all just memorised friendliness. We try to keep away from that and just let the people be themselves and do their job. Barbados is very foreign to the UK and the United States, and to be able to experience the people and the culture and the environment is a big part of what makes your trip special.
Some people feel that value and luxury are mutually exclusive, and we are here to prove that that is not true. We are all about giving the luxury experience, but at all times we try to give good value. The people who come here aren't afraid to say that value matters.