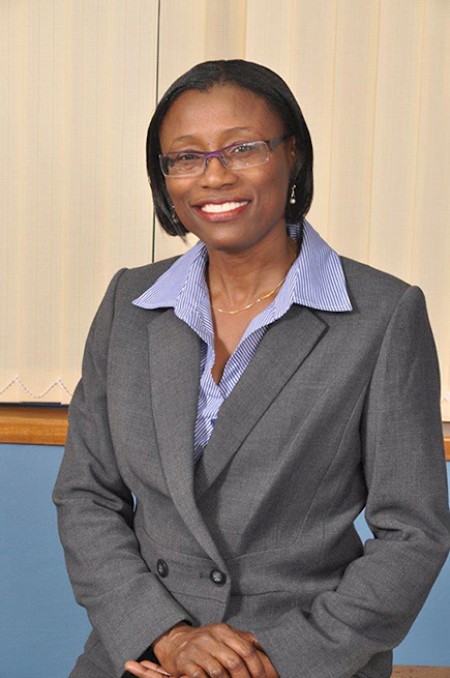 Photo: Barbados Investment & Development Corporation
The first woman to take on the role of CEO of BIDC in early 2015, Sonja S. Trotman has wasted no time in developing more internationally competitive businesses and enabling a thriving and sustainable export sector. Just six months after her appointment, BIDC launched the Going Global initiative, which will aim to broaden the distribution of Barbadian products and boost exports by 10 percent within 18 months. The Report Company caught up with her in Bridgetown to find out more.
The Report Company: How would you define the Barbadian economy?
Sonja Trotman: I like to describe Barbados with a phrase which is used in some of our promotions: 'One Place, Many Opportunities'.  Because we are a small Caribbean island, people do not anticipate what they see when they come to Barbados. We are a developing economy with important contributions being made not only by tourism but other areas of services, agriculture and manufacturing.
Our tourism industry has been developing steadily for years. In an effort to diversify the economy, we have dedicated much effort to the manufacturing industry, and now we are looking at other aspects of services. I see Barbados as a small island which has been able to use its size to take advantage of several opportunities in our growing sectors.
That said, because of our small size and our location, we have experienced challenges as our manufacturing sector is limited when it comes to achieving economies of scale. However, that provides us with an opportunity to create products for particular niches in the international market. For the BIDC, it is about identifying an opportunity, and trying our best to assist the sector to take advantage of that opportunity, in an effort to realise benefits for the economy and our country.
"

Because we are a small Caribbean island, people do not anticipate what they see when they come to Barbados.

"
Tweet This
TRC: What is your vision for the Barbadian economy in the future?
ST: In the future, we would like to see the areas in which we are currently involved, the sectors from which we are currently gaining foreign exchange, become capable of providing sustained and significant contributions to the economic growth of Barbados, demonstrating that we have been able to truly attain economic diversification.
We would have been successful in developing efficient processes in all sectors, offering better and appropriate training and also improving our service delivery. We are working to ensure our manufacturing sector becomes more efficient in how it produces and is better equipped to produce quality products, designed to satisfy the standards of the international marketplace. We are focussing on niches because we do not aspire to be mass producers. It is therefore anticipated that we would realise success in our targeting of important niches. We believe that we can capitalise on other regional and international markets through exports by focusing on niches.
When it comes to food and beverages, we are looking to export more rum, and lay claim to the Barbados rum name. We also believe that our producers need to benefit from better production processes and better structured factories, so we aim to bring groups together in clusters where they are better able to produce for the international markets, in shared facilities.
"

Descendants of Barbadians living in the UK, and the people who come to Barbados as tourists form two very important niche markets for our exporters.

"
Tweet This
TRC: The goal of the Going Global programme is to raise by 10 percent the amount of exports over the next 18 months. How feasible is this?
ST: We know it is an ambitious goal. As the sole trade promotion agency of the government of Barbados, we believe that with our refocusing, we can concentrate more on our clients and the assistance we offer in regards to promotion, quality control, and exports.
CARICOM receives around 50 percent of the exports from Barbados. We are confident that we can increase that number if Barbadian exporters reach out more to our Caribbean neighbours. In an effort to achieve this, we are going to launch trade missions and roadshows in the region to make targeted communities more aware of Barbadian products.
Another way that we believe we can achieve an increase in numbers is by providing targeted assistance to the top extra-regional exporters, those who export to the UK, the USA and Canada. Our strategy will be to focus on the identification of the challenges being experienced by the exporters and wherever possible provide the relevant assistance which could help in overcoming these challenges. We have had discussions with companies, where the management already have programmes planned to increase exports. For example, with one company, we have agreed to facilitate training of their employees in operating their new machinery intended to boost production. We believe that such an initiative could result in increasing exports. We are helping exporters to improve their standards, and achieving quality certification. Finally, we are making sure all necessary supporting structures are in place to make an exporter successful.
This is a nationwide initiative. The BIDC has the responsibility of developing and promoting products and services for export, so the programme lies within the corporation. Our stakeholders are working closely with us on this project. Should we be consistent and efficient in our service delivery and assistance to our clients, with their full support and collaboration, we could reach the 10 percent being targeted.
"

We welcome persons who are interested in helping to develop products or invest in businesses to assist with their development into world-class operations; this is where some of the opportunities are.

"
Tweet This
TRC: What does the 'Made in Barbados' brand stand for?
ST: Within the manufacturing sector, I believe that there is more that can be done to promote the brands of Barbados internationally. There is an intrinsic value in the name Barbados that we have not yet leveraged to the fullest extent. That is what we are trying to do now with Barbados rum. We have started the process of getting a geographic indication for Barbados rum, which we believe will assist in marketing the product more successfully.
We are also very well known for our sauces and condiments. We have even seen Barbados style pepper sauce sold in global markets, however it is not produced in Barbados. Essentially, other countries are using the Barbados name to promote their products. There is much to be gained from pushing the Barbados brand as a whole, regionally and globally.
TRC: How can Barbados capitalise on its ties with the UK?
ST: Barbados has long been referred to as Little England. We have always had a very good relationship. Many Barbadians emigrated to the UK in the 1950s and 1960s, and these Barbadians and their descendants are a natural niche market for Barbadian products. Moreover, many Brits who visit us as tourists become lifelong supporters of our brands and products.
TRC: What is your primary goal as CEO of the BIDC?
ST: That primarily would be to see developed, internationally competitive businesses with operations capable of generating foreign exchange earnings and new employment opportunities and attracting the attention of much needed foreign investors.
I would wish to see more companies with a focus on growth and expansion, using all opportunities available to move beyond the start-up stage. In other words, I want to see people start a business with a plan for growth, which could mean exporting.  I have previously said to my team that exporting should not be an accidental occurrence.
Having spent several years in trade promotion, I would like to stress that Barbadian producers should become more aware and educated as to the requirements for the international export market.
Our strategic plan for this year foresees providing assistance to companies to achieve overall performance improvements. Our aim is not just to have companies start up and operate in Barbados; we want them to start up and operate in Barbados with international standards. It is not just about what you can sell in Barbados. That is one of the things that I would wish to communicate to the Barbadians on a whole who are involved in business, and especially within the small business sector. Businesses must expand their horizons to see beyond Barbados.
TRC: What would you like people to know about Barbados?
ST: I believe that Barbados has a lot to offer the world. I would invite people to come and sample it all, and come to meet our people and get involved in business.
We welcome people who are interested in helping to develop products or invest in businesses to assist with their development into world-class operations; this is where some of the opportunities are. People should not just view Barbados through a prism of tourism, sea and sand. Barbados is so much more. We are confident that we can even grow to be an even better place, with the right investments, training, and the creation of more opportunities to export our products and services.